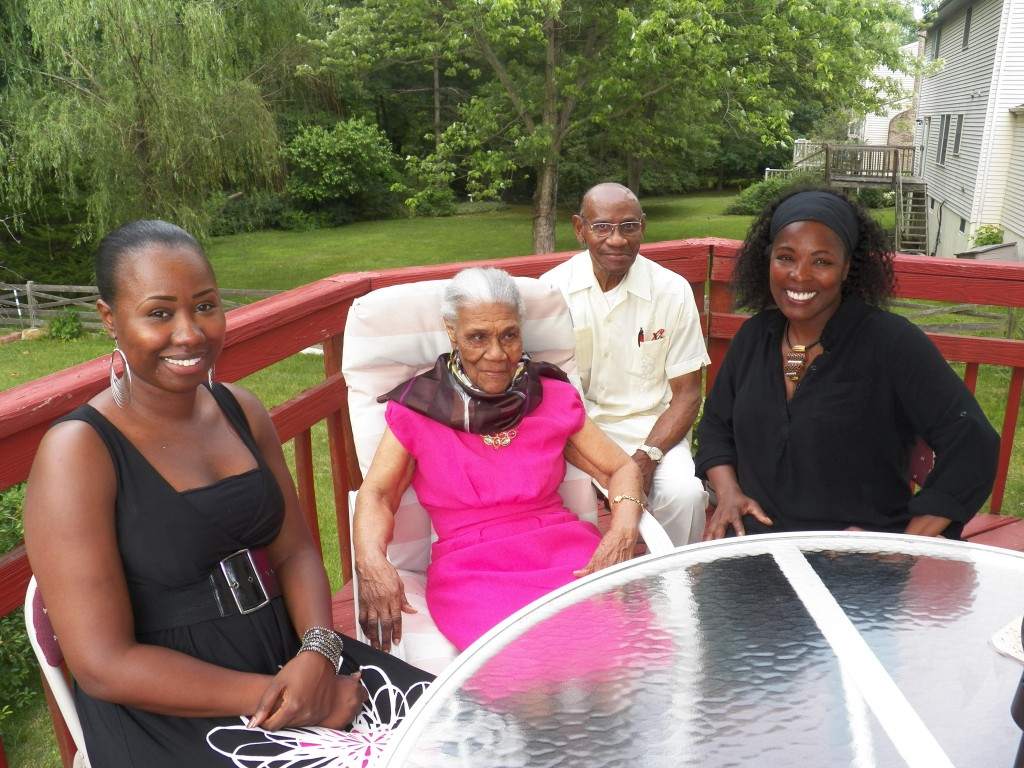 When you ask 97 year-old Christiane Dumorne the secret to beating the clock, she will tell you: "Moun kout dire." In case your Kreyòl fails to reach beyond the quotation mark, what she means is: "Short people live longer." By the way, rarely do people refer to her as Christiane.  Family members and friends know her as "Colin." The grandchildren call her "Grandmère"; the great-grand-children call her "Yaya."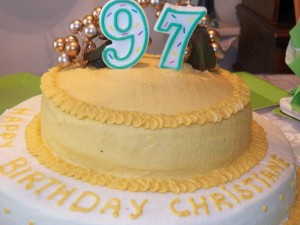 "There's got to be more to living a long and healthy life than being on the diminutive side," I tell Colin. She laughs a knowing laugh. Her eyes give their usual spark. So, I beg her to share a few of her secrets.
"I don't eat everything I see," Colin says matter-of-factly. She detests eggs, red meat, and sweets. She will cut and serve gigantic slices of the beautiful birthday gateau with her name on it, but she won't taste a crumb.
"You have to laugh," Colin says. "Laugh every chance you get. Laugh at everything. There's comedy everywhere you look. Also, don't worry about what other people say or think about you. Don't panic about what will happen to you the next day and the day after that. Just do your best. Mind your own business, and laugh at the rest of the stuff."
Yaya follows another rule religiously: She does not drink anything cold. It could be a hundred degrees outside, but she wants nothing to do with chilled water. Cold drinks, she explains, harden whatever gunk is present in your body, making the machine work that much slower and less efficiently. "
Another food in Colin's daily regiment is watercress. My own grandmother, Felicie M., prescribed watercress, too. Those little leaves are amazing. I graze on that stuff now like tomorrow will never come. And since I started to include watercress in my daily meal, I've  noticed a catalog of positive changes.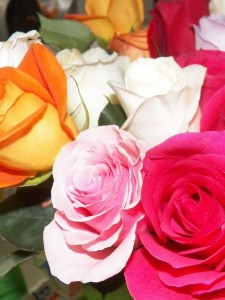 Sit with Colin for just a few moments, and she'll fill you in on a Haiti about which you'd never even heard. The lady is a walking encyclopedia. She is sweet and lovely and fiercely loyal to her family. She can warm your heart or cut you down with the selfsame smile. She is one of the original fanm vayan,  the last of a great generation.
Check out this squiggly video with the birthday girl. Colin agreed to sit on the deck and chat with us for a few minutes for the video. At any moment, she might have excused herself and walked away, so everything had to happen fast.
Colin's sons, 76 year-old Robert Dumorne and 72 year-old Etienne Dumorne, are with their lovely mom today. Daphne Dumorne, one of Yaya's many grandchildren, sits with us in the video. I'm the loud mouth in the black clothes, trying to pry secrets to a long, healthy life.
Have a super Haitian Mother's Day!
1
2