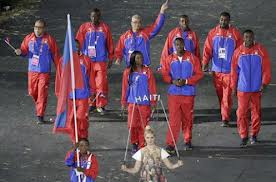 One very popular news article that's been circulating about the Haitian Olympians contains a line that goes like this: "Four out of five of the Haitians at the Olympics have one thing in common: they're not from Haiti."
Question(s): If you look completely "European" but have one parent who is of "African descent," what do they call you? If both of your parents are American but you were born elsewhere, what do they expect you to call yourself? What do they call you in the heat of an argument?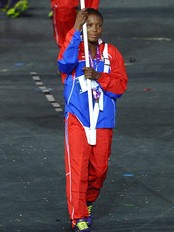 How many are watching and cheering for Haiti's team in London? Medal or no medal, we're proud of them. Yes, we know that Linouse Desravine is the only who was born on the island. Perhaps we are impressed by more than her athletic prowess. Perhaps we're just proud of people who choose to honor their ancestry in front of millions.
Here's what triple jumper and Georgetown Law School grad, Samyr Laine, wrote in a recent article on the Web: "When I win a medal, the first thing I plan to do is find my parents and brothers to thank them for being there and being on this journey with me. Then I'm going to grab a Haitian flag from the crowd and find a television camera so that the world knows that it's Haiti's medal."
In The Miami Herald, hurdler Jeff Julmis shares his reason for choosing Haiti: "I've been wanting to represent Haiti ever since I was a kid. I definitely feel a special connection with the people there. All you hear about is the turmoil and what a negative place it is. I just want to go to London and make Haiti proud."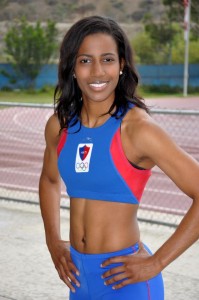 Pascale Delaunay, a sprinter, is disappointed about not making the team. This quote is from her blog: "I wanted to represent Haiti at the Olympic Games so that everyone could see Haitians are more than just poverty, I won't be there but I have 4 great teammates Moise Joseph – 800m, Samyr Laine-Triple Jump, Jeff Julmis-110H and Marlena Wesh-200/400m) that I trust to represent our flag to the fullest."
This is beyond demonyms and the One-Drop Rule. In an interview with the Associated Press, Marlena Wesh says: "I still feel Haitian even if I wasn't born there." 
**********************************
­­­
When my American husband and I bought groceries in Central Florida recently, I recognized the unnameable thing in our cashier's eyes. Her name-tag did not have a backward-leaning apostrophe on the middle e in Michele, but I had to ask anyway: "Are you Haitian?"
"No," Michele answered with a candid smile.
My husband chuckled. Hadn't he told me—for years—that I was not an expert at guessing people's nationalities simply by looking at them?
"No?" My question hung in the air.
"I'm not Haitian," Michele went on. "But my father is."
"Your father is. . ."
"Haitian."
Now, I was the one smiling. Michele glanced at the line of customers behind me. I'd run out of time to ask more questions.
Michele, like my husband, was born in the United States. Her father is Haitian; she is not. She never mentioned mom or mom's nationality; that did not matter. Perhaps Michele considers herself "Haitian-American." Perhaps she calls herself simply "American." The choice should be hers, even when she has to check the "ethnicity," "nationality," or "race" box on a legal document. My husband's parents, grand-parents, and great-grand-parents were born in America's Heart Land. So, I allow him to call himself American;-)
Now, the "foreign-born" athletes who carry the Haitian flag in London have Haitian parents. The athletes may not have certificates that list Haiti as their birthplace. They may not hold Haitian passports; they may not qualify to vote in our many elections; certainly they are forbidden to run for president, but they chose to represent the drops of Haitian blood in their veins. More power to them–literally.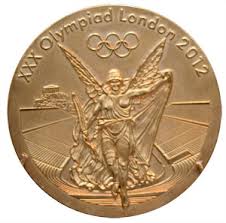 Each one deserves a gold medal for standing, running, jumping, and kicking for our beloved country.
For all the children in Haiti who are so proud of you; for elderly Haitians who'd give anything to run just one more race, a gwo Thank YOU to Haiti's Olympians!
______________________
Pour le pays. Pour la patrie. Pour les petits enfants qui sont si fiers de vous. Pou tout grandmoun ki ta renmen kouri yon denyè kous. Merci to the 2012 Haitian Olympians in London. Kenbe la!