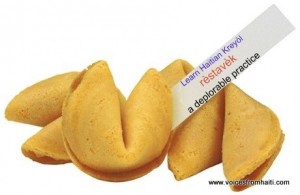 Si moun lakay pa vann ou, moun deyò paka achte-w. If someone inside your house does not sell you, someone from outside cannot buy you. ~Haitian Proverb/Pwòvèb Ayisyen
Texas. 1865. The Union Army's Major General had to remind an assembled crowd that President Lincoln had, in fact, written a proclamation two years prior which freed all slaves. Some folk had not heard.  Granger, the Union Army guy, explained: "In accordance with a proclamation from the Executive of the United States, all slaves are free."
Port-au-Prince. 2013. There are a few hundred thousand children in Haiti right this minute who would benefit from such a proclamation. They are known as rèstavèks.  "All slaves are free." What nice words!  Should we put our voices together and proclaim Haiti's rèstavèks free? Would they believe us? Libere tout rèstavèk jodiya. Isn't it time for this deplorable practice to end?
Rèstavèk-ism is a difficult subject to talk and write about, but there's information about it. Start with Robert Cadet's Rèstavèk. And don't forget to run to your favorite bookstore, and ask for your very own copy of Fabiola Can Count: a harmless little book about a rèstavèk girl. Fabiola Can Count, written by Katia D. Ulysse and illustrated by Kula Moore, is part of a six-book series published by One Moore Book. Other authors in the series include Michele Jessica Fievre, Ibi Zoboi, Edwidge Danticat, and Maureen Boyer.
Below is another harmless little story about a five year-old slave. The title is Don't Count Me. Happy Reading!
_______________________
Don't Count Me
written by
KDU
Several years ago a lady with very white teeth came to count all the rèstavèks in Haiti. Everywhere the lady went, she carried a thick notebook and a blue pen with a golden point. The words on the notebook's cover read: Rèstavèks/Haiti's Modern-Day Slaves.
The lady woke up early each morning to count the slave children, the rèstavèks. She counted, and counted, and counted. There were almost four hundred thousand. These rèstavèks — some as young as five years old — woke up before the roosters; they built fires for cooking, made breakfast, and served sweetened coffee to their grownup owners. They traveled to distant streams to fetch water for their keepers' baths. Since they were not permitted to attend school, there was plenty of time for  sweeping, washing and ironing clothes. At night, the  rèstavèks slept on porches with the dogs and the shadows. One of the children the lady counted was a girl named Sophia.
The lady with the white teeth noted how perfectly balanced the heavy bucket was on Sophia's head. "I can spin around without spilling a drop. Watch me," Sophia boasted, twirling. She held the bucket in place with one hand. The other was cocked on her bony hip.
"Why are you carrying this bucket of water on your head?" the lady wanted to know.
"Because I cannot carry it on my feet," Sophia retorted, laughing. But the lady with the white teeth could not bring herself to laugh. She'd seen thousands of children like Sophia. She'd seen them balance things on their heads that would break an army general's neck.
Sophia's threadbare clothes would make useless cleaning rags, the lady also noted. The child's hair looked as if it had not seen a comb in months. The whites of her eyes were burnt-orange. Her clavicle protruded through thin skin. There were a number of welts crisscrossed on her arms, back, and legs.
When the lady asked Sophia her age, the child replied: "If I was five years old one minute ago, I am five years old now." Sophia did not look at the lady when she answered her questions.
"Are you a rèstavèk?" the lady asked the same question she'd asked several thousand times before.
"If you think I am a rèstavèk, then maybe I am." Sophia hunched her shoulders.
The lady put a check in the YES column, adding one more to her list.
"Why are you counting rèstavèks?" Sophia asked.
"It's for a special report that will help children like you."
"Don't count me," Sophia said. "If my owners catch me talking to you, I will have a lot more of these." She indicated the welts on her arms.
"It's my job to count you," the lady with the white teeth explained.
Sophia ran as far and fast as she could, but did not spill a single drop of water from the five-gallon bucket on her head.
(Excerpt from kdu's Rubble Stories)
__________________________________________
I found this piece on YouTube with Oprah & Jean Robert Cadet.
________________________________________________
Hey. . .Friends of VoicesfromHaiti,  check back soon for a nice piece by Patricia Philippe.
While we're at it, get a copy of Juneteeth by the inimitable Mr. Ralph Ellison.
VoicesfromHaiti: Things are not always pretty like hibiscus and sweet like raw sugar rapadou. We're still beautiful. And we're still here. Nou bèl. E nou la.
Peace!