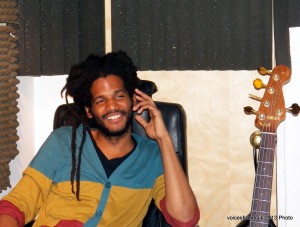 I surprised my friend Kathy with a visit to her Brooklyn home the other day. She was her usual gracious self. We decided to give her husband, C., an even bigger surprise by showing up at his gig. C. and his gigantic bass were busy accompanying Paul Beaubrun, lead singer of Zing Experience. A gifted percussionist dropped rhythms that bounced off BAM's mega facade, and rocked Lafayette all the way to Flatbush Avenue.
The venue was packed, but Kathy and I managed to get a good table. I had a perfect view of the back of Paul Beaubrun's head. His hair falls just above his waist. Nice. But the diri djondjon black rice was too heavenly for me to complain about anything at all. The trio filled the house with a soul-rocking sound.
As soon as the set ended, C. joined us at our table. Naturally, we gave each other a hard time about nothing major; that's our thing. When Paul "Zing Experience" Beaubrun walked by, C. called him over for an introduction.  I was a fan in seconds.
I soon learned that Paul's family and my mother's were/are practically neighbors. We looked at each other, and we were like family; conversation came easily.
Days later, I met Paul at C.'s recording studio, Kamoken. We listened to a few works-in- progress while we filled up on sushi and brain-busting wasabi.  When another musician dropped by to work, Paul, Kathy, and I went upstairs for the INNERview I had to have for VoicesfromHaiti.
In Kathy's office, I proceeded to bombard Paul with questions. Throughout the interrogation, the singer remained as humble as he is gorgeous.  We talked, talked, and talked some more.
Kathy had forgotten the story about how Paul and his beautiful wife met. She threw the first question. (FYI: Paul has been happily married for almost a decade now. . .)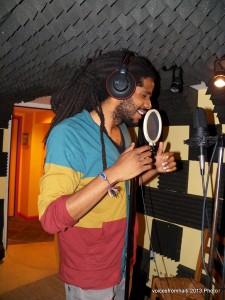 Kathy: Paul, how did you and Cynthia meet again?
Paul to Kathy: We met in NY in May, 2005. Shortly afterwards we decided to form Zing Experience. It was like our first baby together. We loved it as soon as it came into existence.
Katia: What exactly is Zing Experience? (I had heard about the  band. I'd seen posters of Paul all over the place; I knew musicians who said they respect Zing. I know Zing caused certain people to breathe a little heavier. I didn't know much more).
Paul: It's a mix of racine, rock, reggae, and many different styles. It is also a spiritual movement. It's an awakening of the self. Zing Experience is a way to be proud of your culture.
Katia: Why did you call the band Zing Experience? Does Zing have a special meaning?
Paul: We call the band Zing Experience, because I was born a Zing.
Kathy: What's a Zing?
Katia: Yes, what is a Zing? (I still didn't have a clue).
Paul: A Zing is a spiritual messenger or a poet. We are born with little dreads on our heads. For example, in Haiti when you go deep in the mountains, they don't know the word Rasta or Dread. When they see me, they call me Zing.  In the dictionary, Zing is defined as "vitality." I embody those qualities, I hope: I am an artist with vitality.
Kathy: What inspired you to  become an artist? (She had to have known the answer. Paul practically lives in the studio. I was glad to hear his explanation just the same).
Paul: First all, I wanted to be a professional soccer player. I didn't choose to be a musician, music chose me.
Katia: What instrument do you play? (Still didn't know).
Paul: My first instrument is the tanbou; now I play the guitar.
Katia: Which of the two instruments do you think helps you express what you feel more?
Paul: That's a good question. I think it depends on the music.  I need to feel the melody. Some songs ask me to use a particular instrument–I let the music guide me. The music tells me which instrument to use. It's not something that I'm exactly conscious of. I don't say: Ok I'm going to use this or that instrument. The music controls me. I let the music take me where it wants.
Kathy: Is there one person in particular who inspired you to become a musician?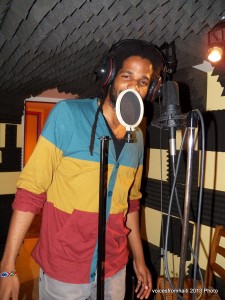 Paul: I grew up in a musical family. My father and mother are co-founders of Boukman Eksperyans. So home was music school for me. I didn't have to do much to get inspired–or inspiration didn't have to look too far to find me. We'd always been one. My dad–like a great teacher–introduced me to many different artists: Jimmy Hendrix, Bob Marley, Angelique Kidjo–she is amazing! I'll never forget seeing her in Central Park. When I went out on my own, I had a lot to draw on. Inspiration came from inside and outside. It was everywhere. Inspiration is everywhere.
Kathy: How has the band evolved since 2006?
Paul: Zing is like a baby growing up. I've had the chance to meet many great people since we began; learned from them. The band grew musically, intellectually, and spiritually.
Katia: Where do you see Zing Experience in five or ten years from now?
Paul: We've paid our dues, and keep paying them. You name the spot, we've played there; we took any gig we could get. We played in Haiti from 2007 to 2009. We are planning and seriously hoping to play in Haiti in December, 2013. Most of our dreams have come true. We'll just keep doing what we do. We'll continue to grow and bring all that we can to the stage.
Katia: What's the next big dream for Zing?
Paul: The next big dream is definitely to play in Haiti this December. We are keeping our fingers crossed. Think good thoughts. Send good vibes, and plan to be there when the band plays.
Kathy (with a serious look on her face): One thing I always notice about you is that you invite all kinds of people to play with Zing. That's a sign of a true artist. You are open to other interpretation and other travels. The more open an artist is, the bigger the experiences; the bigger the feeling. That's how you grow. Paul has his core band, but other artists come all the time. That's a cool thing.
Katia: Tell me about your core band.
Paul: The core band is myself, Cynthia Casasola, Chico Boyer, Peter Barr, and Morgan Zwerlein. It's an honor to play alongside them. We have a certain chemistry. Together we are Zing Experience.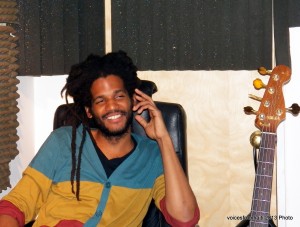 Katia: When can Zing's fans expect the next CD. "Project Haiti"–the previous CD–received a ton of attention. People love Zing. When will you give them more?
Paul: We're planning for 2014. We're working hard. The music is leading us to a good place. And we'll bring the CD to you, as soon as the songs are ready.
Kathy: Beside going to Haiti in December, any big dreams you'd like to see come true?
Paul: We really, really want to go to Haiti in December. Like I said,  send us good vibes. That might be the biggest dream of all.
Katia: Thank you so much for the INNERview. I think I've been Zingged. I can't wait to hear you play again. I wish you much success for years to come.
Paul (big smile on his face):  Thank you for interviewing me. It's been a pleasure. I appreciate the fact that people actually care about Zing. My dreams keep coming true.
High-fives went flying all over the place.  It was time to get back to the business of making music. Another artist stopped by. A mini-jam session ensued. Paul drummed with his hands on his thighs. His head swayed from side to side. A melody from faraway places reached out to him. Soon it would take a form we may hear. That was just a tiny taste of what it means to have the Zing Experience.