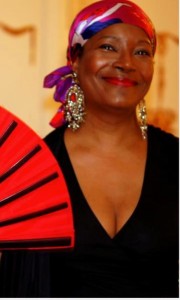 Don't make a resolution, but a change in your life you can live by! The New Year is the continuation on your life; vision starts with an idea. Wishing all of you a Blissful year.  Chef Elle Philippe.
Read more about Chef Elle in a VOICESfromHaiti INNERview:
I was born in Port-Au-Prince. Both of my parents came from Leogane. Although I left a long time ago, Haiti will always be home. My roots are there. It is there that I took my first step. It is where I first said "I love you," and understood what that meant. Haiti gave and continues to give me courage. It taught me to respect and treat everyone that comes into my life with dignity. I think about Haiti every day. I have nostalgie for the people, the music, the sun, the colors, Rond Point, Champs de Mars, Bicentenaire: those places may have changed significantly; some may no longer exist. In my own heart, however, they will always be there. No matter where I go in the world, Haiti will always be home.
Happy New Year, Elle! Thank you for sharing your voice on VoicesfromHaiti!