Dark Days in Port-au-Prince is like a lavish meal, served Exquisite Corpse style–over six scrumptious courses–cooked to perfection by six Haitian writers who can't seem to get enough of working with one another.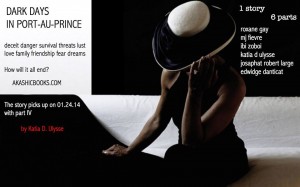 Their work have been published together in various anthologies, beginning in 2001 with Butterfly's Way: Voices from Haitian in the Dyaspora (Soho Press). Brassage (UCSB, 2005), Haiti Noir 1 (Akashic Books, 2011), So Spoke the Earth (WWOHD, 2013), Haiti Noir 2 (Akashic Books, 2014), a children's books series, and now this.
Courses 1, 2, and 3 of Dark Days in Port-au-Prince have been served, but that won't spoil your fine dining experience. If you have not yet savored those scrumptious dishes, they're readily available on Akashic Book's website.  The  4th course will be brought to your table on 1/24/14; it will  be hot–that much we can say.  And because Chez  akashicbooks.com is known for its avant-garde menu, each bite will likely thrill your taste buds.  To death.
~~~~~~~~~~~~~~~~~~~~~~~~~~~~~
This is the order in which this story unfolds:  Roxane Gay (section 1), Michele Jessica Fievre (section 2) , Ibi Zoboi (section 3), Katia D. Ulysse (section 4), Josaphat-Robert Large (section 5), and Edwidge Danticat (section 6) .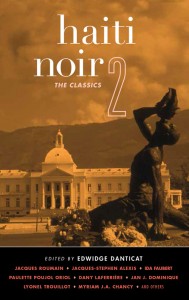 Although many of us would love to know how the story will end, we must wait one week between each installment.
Readers know only what happened in the previous 3 sections. The writers have no clue about what twist will follow their own contributions. Join us at  akashicbooks Friday (1/24/14), before we all bite our fingernails down to the quick.
Since Master Chef, Josaphat Robert Large, always cooks up a fine story, we know his section will be plate-licking good.
Edwidge Danticat, will provide the killer ending, making this final course unforgettable.
In the meantime, dig into Katia D. Ulysse's Part 4 on 1/24/14. Try not to burn your tongue.
Bon appétit!