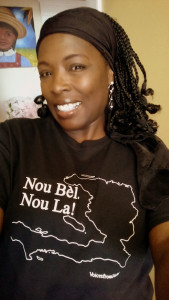 When it looks like it's all over, start over. My tenure as a pessimist lasted two whole days. I knew I wouldn't turn into a cynic. I have too much hope for that. The best is still yet to come.
There are many, many people who work tirelessly to make Haiti a good place for today's youth and future generations. For every self-serving misanthrope, there are thousands of passionate Haitians and friends of Haiti who stay busy trying to find solutions. The mountains of Kiskeya are rocky and steep, but unlike Sisyphus, we will get that boulder to the top one of these days. The pearl will shine. We will cross that bridge, and see better days.
I hate that old maxim "We are ugly, but we're here." I never want to hear that from anyone again. How disparaging is that! I prefer VoicesfromHaïti's motto so much better. Don't you? Say it with me:
"Nou bèl. Nou la!" We are beautiful. We are here!
It's Haiti we're talking about here. What's not to love?
Shirts will be available for purchase beginning July 20.