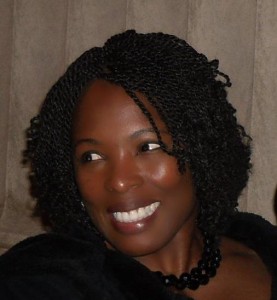 If you can read this, thank a teacher.
I am thankful I was not born a turkey.
With my luck, I would not have been the one pardoned at the White House this morning. I can see me now: nice and golden brown; a ton of stuffing between my legs. A freshly-sharpened carving knife on stand-by. Every eye is on my neck, breasts, and thighs. No thanks.
But I am thankful.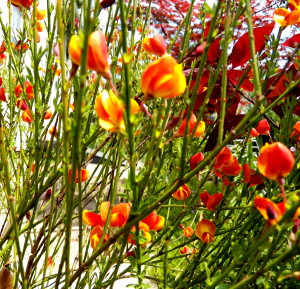 I am thankful for my true family, for great friends: old and new. I am thankful many of the flowering plants in my garden think it's still summer. I am thankful for my neighbor Jude's cat, Perdita Trouvé. She and our male cat, Gray, love each other. They're not interested in making babies; they could not, even if they tried. They're just good neighbors. They welcome and accept each other's oddness. The world could learn something from them.
I am thankful for the opportunity to teach amazing students who come from war-torn countries, and still thrive. I get to use a part of my life to let hundreds of young people know how awesome they are—no matter what the critics say. I am thankful.
I am thankful for knowing how to read, and for writers who tell stories so juicy I curse the fact that I need sleep to live.
I am thankful I knew Felicie Montfleury, my Nenenn/Grandmother. She passed away three years ago, but our bond is stronger than ever. I understand her much better now. She had this notion that "Family, Love, and Loyalty" were action words meant to be conjugated in the present tense.
My only regret is that I didn't bury my Nenenn in her signature talon-kikit stilettos. I can picture her now, skipping across the sky. I can see her colorful scarf fluttering in the breeze.
When I visited my Nennen's grave a few days ago, I noticed the message chiseled on her neighbor's shiny new headstone. The black and white photograph introduced me to the deceased.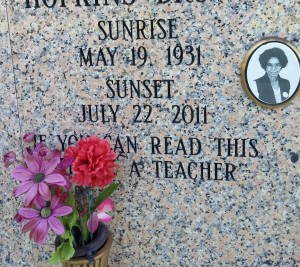 This lady, I.H.B.,  looks very much alive in the picture. Her kind face is pillow-soft. She gives the warmest hugs. She likes to cook. Thanksgiving Dinner is always at her place.  She is strict, but fair. She takes pride in knowing how to set a table properly. She wears talcum powder at night. Her housecoat is folded on the footboard.  She applies a light layer of Vaseline on her lips before going to bed–an old habit. She owns several bottles of perfume, but wears only Chanel No. 5.  That bottle is half full. She rolls her hair at night with sponge rollers: pink. She holds the rollers in place with a white mesh hairnet. She owns an alarm clock, but means to give it away.
I.H.B. wakes up before dawn. She makes breakfast: one egg, one slice of bread, and a cup of mint tea. She eats on China that is three times as old as she will be when she dies. She does not worry about dying someday. She understands death is a part of life. This is why she gives thanks every morning and night.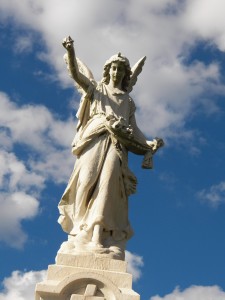 I.H.B. wears pantyhose, even in summer. She knows how to knit, but does not. She owns two raincoats and two umbrellas—in case someone else needs to borrow them. She treasures her old friends, many of whom she has not seen in decades.  She packs snacks in her purse, in case someone she meets needs something to eat.
She does not tighten her grip on her purse, when she walks past a group of loud loiterers dressed in saggy pants and black hoodies. The loiterers offer to help her carry her groceries. She does not need help; she  swims like a champion five times a week at the YWCA. She wants the loiterers to know she is not afraid of them. She wants them to know she trusts them. "Thank you, children," she says.
The "children" are twice as tall as she is. They weigh fifty to one hundred pounds more than she does. The children say, "Yes, Ma'am." They are grateful for this lady whose name they believe themselves unworthy of speaking. They know she loves them; they are grateful for her presence. They will never know that I.H.B blames herself for their plight. They are her grand-children, the children of a thousand former students. They will never know she thinks of them still.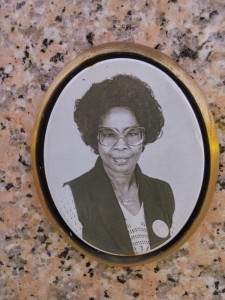 I fell in love with my Nenenn's grave-side neighbor, as soon as I read the inscription: "If you can read this, thank a teacher." Even though I.H.B. is long gone, I knew I was in the presence of a hero. I am thankful someone like her lived in this world.  And if Susan Sontag was right, now that I've taken I.H.B.'s picture, we're connected.
I am thankful.  I hope one day I will have touched half as many strangers' lives as I.H.B. did. And still does.
What are you thankful for this Thanksgiving?
_______________________________________________________
"All photographs are memento mori. To take a photograph is to participate in another person's (or thing's) mortality, vulnerability, mutability. Precisely by slicing out this moment and freezing it, all photographs testify to time's relentless melt." Susan Sontag