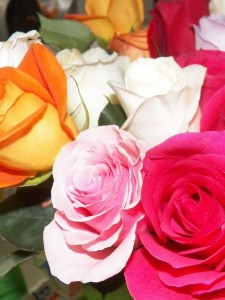 The benefit of being a Haitian Mom living in the United States of America is we get to celebrate Mother's Day twice a year.  Staunch nationalists expect their "Joyeuse fête des mères" bouquets on the last Sunday in May. Today is a sort of dress rehearsal for the real thing: remembering the generations of women who birthed us and birthed in us the memories and customs we must impart to our children with their shiny, hyphenated cultural identities. Happy Mother's Day anyway!
Last week, a friend adopted two children who had been in foster care far too long. What a joyous Mother's Day this must be in that house! Another friend traveled thousands of miles—over the course of many years—to adopt two orphaned children who had stolen her heart. Happy Mother's Day, Ladies! You have changed the trajectory of your babies' lives.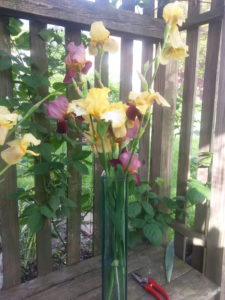 On the other side of happiness is the grief that comes from losing a child. I know women who have yet to stop crying. Friends and families do their best to pretend Mother's Day is insignificant, but facts are hard to ignore. You are still Mom, even when your child is gone. Your babies love and remember you. They are with you today.
Happy Mother's Day to Moms whose children are incarcerated. They made bad decisions or were in the wrong place at the wrong time, leaving you to wonder where you went wrong. You are still Mom. Keep on being the pillar you are.
Happy Mother's Day to Moms who genuinely regret mistreating their children when they were young.  May your children forgive you; may you learn to forgive yourself!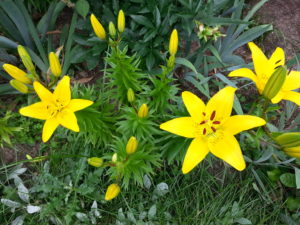 Happy Mother's Day to elderly Moms whose adult children now cast them aside. You're in your seventies and eighties today. The children for whom you would have died a thousand times now believe they are too sophisticated to be associated with you. You did your best. That manual about how to be the perfect parent burned the day the sun came into existence. Keep on living, Dear. They'll come around. And if they don't, oh well. . .
Happy Mother's Day to Moms who are no longer with us. May your children trust that you do look upon them constantly! You loved them then and always will.
I inherited my grandmother's Bible, after she passed away in 2012. She used the Book as a sort of safe deposit box for treasured pictures, scraps of papers with telephone numbers scribbled on them, and the Mother's Day card I gave her when ten thousand years ago. That card depicts a bouquet of bearded irises—like the ones in my garden that I have to divide constantly, lest they take over the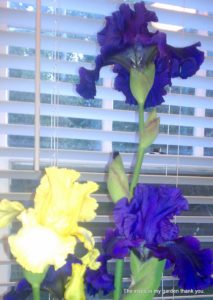 yard and every inch of our house. I must have chosen the card because the flowers were like nothing I had ever seen. Finding that card in her Bible explained my obsession with irises. They are delicate and yet unrelenting as a grandmother's love.
It's been five years since my beloved Grandmère passed away. We are closer than ever. Happy Mother's Day, Nennenn! She would be proud to know that irises which I cultivate now adorn one public park, the median between a pretty lake and its admirers, as well as several private gardens.
Earlier this week, I forbade my daughter, Pititfi, to join her friends in the park until she cleaned her room. She was miffed. To express her displeasure, she handed me a Mother's Day card she had made, saying: "I was saving this card to give to you on Haitian's Mother's day. But since you won't let me play with my friends, I want you to have the card NOW!"
I cried tears of joy.  Don't you dare tell her that her punishment didn't work.  Happy Mother's Day and Joyeuse fête des mères to you!