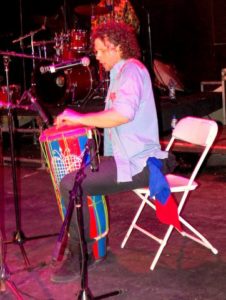 Port Washington, Long Island is a long way from Haiti, but it's safe to say Morgan Zwerlein's heart beats for both.  He describes his childhood simply: "A lot of scraped knees and sand in my shoes."  When the conversation veered toward drumming in the Haitian tradition, he had a lot more to share. Here's the INNERview:
VoicesFromHaiti: Share a memory that you cannot escape–something from your childhood that impacts you today.
Morgan Zwerlein: I remember the sounds of Manhasset Bay; the rigging of sailboats moored or docked in the bay would make music against the various sized masts.
VoFrHa:  Where are you based now?
MZ:  Now I have my base in Flatbush, Brooklyn. You can say I was called here by the drum.
VoFrHa:  Did you always want to be a musician? If so, which instrument did you play in the beginning?
MZ: I don't have memories before music. Everything was a drum, pots and pans, the jungle gym at school had many exciting sounds.
VoFrHa:  I've seen you use many instruments to communicate with the audience, including a conch shell. How many instruments do you play now?
MZ: I'm a drummer and percussionist at heart, but I try to express myself through any instrument I can.
VoFrHa:  What draws you to the drums?
MZ:  I love drums because they seem to unify people, make them dance and free their spirit.
VoFrHa:  How did your relationship with Haiti begin?
MZ:  Very simply: Frisner Augustin. This creative genius and cultural ambassador shared his gift for many years, in New York. I was lucky enough to have been his protégé for the final 7 years of his life.
VoFrHa:  Everyone has his own private Haiti. Too often, those who think they know Haiti, have only an image of abject poverty and sheer ugliness. What do you want people to know about Morgan's own private Haiti?
MZ: I don't know if I would say I have my own private Haiti. Haiti to me is the people.
VoFrHa:  How long has it been since you've been traveling to Haiti?
MZ:  Not very long.  My first time was in 2006.
VoFrHa:  What's the longest stretch of time you stayed in Haiti?
MZ: I've stayed for a couple of months.
VoFrHa:  How often do you travel to Haiti each year?
MZ: As often as possible, but at least once a year.
VoFrHa:  What is your favorite place in Haiti?
MZ: Wherever there are drums beating.
VoFrHa:  Who is/are the most influential people in your life, in terms of your development as an artist?
MZ: My family and friends are all music lovers, they helped influence me by sharing and playing music with me. Since meeting Frisner Augustin, my attention has been focused primarily on Haitian drumming.
VofrHa:  What's the general reaction to Morgan, especially in Haiti, when you show up and play like you were born drumming?
MZ:  I get all kinds of reactions. I try not to be too much of a gimmick. When I play, it has to come from the heart always.  And people can tell the difference. When the drum is talking its language people, dance no matter if you're natif natal or etranje.
VoFrHa:  Have you ever felt rejected by the Haitian community because of your appearance?
MZ:  Yes. There are some people who don't want to see a white guy playing Haitian drums. But the community in general is more curious as to how I know how to play.
VoFrHa:  What has been your experience with other Haitian drummers?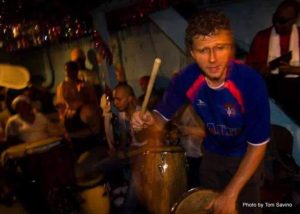 MZ:  There are so many amazing Haitian drummers whom I respect, each with his own unique interpretation of the tradition. I love it when I get to play with different drummers and see what they bring to the musical conversation.
VoFrHa:  You are fluent in Haitian Kreyòl. How did that happen?
MZ: I began learning Kreyòl,  as Frisner taught me Vodou songs. I think the first song I learned was a Nago song: Legba Gwètò e ki Lwa ou ye. I'd ask him to tell me what the songs meant; he would. Little by little, I learned the language. Going to Haiti and working in Haitian bands from NY solidified my knowledge.
VoFrHa:  You have an extensive repertoire of traditional songs. How did you learn those?
MZ: I'd hear a song at a dance and then ask Frisner how it goes. Considering the number of traditional songs and those still being created, this is a never-ending field of research.
VoFrHa:  How did you learn to play the various vodou rhythms? Do you take for granted that you know them so well?
MZ:  I learned by watching Frisner play them. I paid very close attention to the melodic structure of the patterns and how they functioned in different circumstances. Playing on a stage, in the street, in a ceremony, for a choreography: these are all different factors that may influence the particular variation of a rhythm that I play. Drumming is a language. Even before I could speak that language, I understood it. Still every time I play with people, I try to listen to what they are saying and learn from it.
VoFrHa:  Name dropping can be awkward. Still, can you tell us a few people with whom you've played in the last few years?
MZ: I had the honor of playing with Lauryn Hill, Arcade Fire, Paul Beaubrun, Boukman Eksperyans, Ayizan, Mozayik, Emeline Michel, as well as continuing my work with Makandal, Brother High Full Tempo Rara, Troupe Zetwal, Agoci, Granchimen.
VoFrHa:  Paul Beaubrun and Ms. Lauryn Hill. What has that experience been like?
MZ:  That has been an incredible experience. Paul is an incredible songwriter, and legends like Ms. Hill recognize that. Everywhere we go, we bring Haiti with us.
VoFrHa:  If you were not a musician, what other profession might have claimed you?
MZ:  I'd probably have invented Facebook and been rich. I can't imagine life without music being central.
VoFrHa:  Was there ever a time when you considered giving up?
MZ: I've never considered giving up, but I have been in awe of the responsibility of carrying on a legacy.
VoFrHa:  What advice can you give to musicians trying to break into the business?
MZ: May you find success at every turn!  Play only the music that gives you goosebumps; anything less would be a waste of time.
~~~~~~~~~~~~~~~~~~~~~~~~~~~~~~~~~~~~~~~~~~~~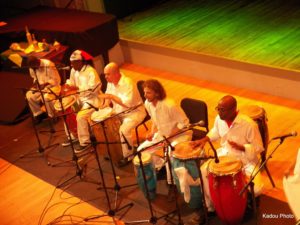 I have my answers from Morgan Zwerlein now. Frisner Augustin, the master drummer who taught him the language of the drum, was brilliant.  Following in the Master's footsteps, Morgan has learned to vacate his body when he touches the drum. He sheds the ego and becomes more of a conduit for the rhythms that sustain us in sweet and sorrowful times. Keep up the good work, Morgan! Kenbe la.
Save the date: Catch Morgan next month at the annual tribute to Frisner Augustin.