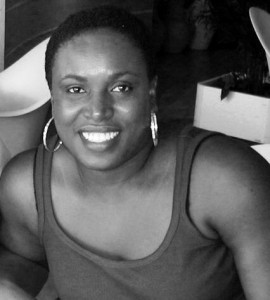 Enjoy this VoicesfromHaiti Q&A with one of Haiti's most talented authors: Marie Ketsia Theodore-Pharel. She is a writer who pours her soul into every line. Get to know Marie Ketsia Theodore Pharel by her works. You'll thank yourself for it.
Katia D. Ulysse: Where were you born? Tell us a bit about your childhood home. What are your fondest memories?
Marie Ketsia Theodore-Phradel: I was born in Port-Au-Prince, but my fondest memories took place in Croix des Bouquets while visiting my grandfather's farm. Growing up, most people in Croix des Bouquets seemed like a relative, so I felt like the whole town belonged to me.
Katia: Is there a particular recollection that has followed you through the years?
Ketsia: Yes. One summer vacation, I was visiting my grandparents in Croix des Bouquets. As usual, when Jean Claude Duvalier was going to his ranch–not too far from our property, he would throw money out of the window. Kids and adults would stand in line.  We would make plans about what we would do on the day he was coming.
My grandfather forbade everyone in his household to stand on Rue Stenio Vincent when Duvalier was to drive by. My grandfather refused to let his sons, daughters, servants, and  near the front of our property, to grab gourdes. My seven year-old ears heard one thing. Of course, my feet did not want to follow.
The morning of Baby Doc's arrival, I was on the front porch with my grandfather. The ceramic floor was cold. He rocked in a chair under the mid-morning sun. It didn't take him long to fall into a sonorous sleep. I opened the white wrought iron door as quietly as I could. Within seconds, I was gone.
Everyone had already gathered, waiting for Jean-Claude to throw money. People were speaking in high spirits and joking. Children crawled about the grownups' legs, searching for the best places to position themselves.
I managed to sneak to the front of the line. A little while later, I saw the motorcade coming.  In the distance, the orange and gray bills flapped in the wind like flakes of manna. I jumped as high as I could to grab a fistful. On my way down from my jump, I collided with someone who had been standing too closely. I almost fell in front of the moving car, but that someone grabbed me by the back of my shirt. It was my uncle Jean. That day, my uncle saved my life, but no one could save my hide.
On Writing
Katia: Did you always know you would be a writer? Who inspired you to pick up the pen?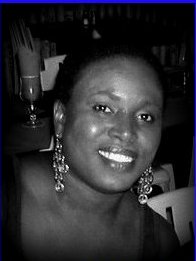 Ketsia: I knew I wanted to be a writer when I was in the sixth grade. I was given a creative writing assignment and the teacher said my story was the most creative. This was also the time when I had a great and inspirational English teacher, Mrs. Bilaal. She would read poetry and short stories out loud to us with such prosody and animation that I couldn't help but be transported by those words. We were encouraged to read during the first thirty minutes and the last thirty minutes of the school day. The more I read, the more my imagination took flight. I started to journal and to write poetry.
Katia: Do you have a special routine to get the writing done? With the babies, when do you find time?
Ketsia: I am currently editing a novel that I recently finished. So, I spend between one to two hours a day on my craft. One Sunday a month, I get all the time to myself to write and edit and to meet with my writing-circle friend.
Katia: You've written and published a lot. Among all your books, which is your favorite?
Ketsia: The one I'm currently working on is always my favorite because there is so much possibility and hope of what it will become.
Katia: Who is your favorite Haitian writer?
Ketsia:  I enjoy the new writers immensely. Edwidge Danticat is at the top of the list. I read her work when I was in college. I was amazed and then I knew it could be possible for me to be a writer. I love Marie Chauvet because of her bravery and the things she endured. I read Franketienne because once in a while I enjoy a dose of craziness. Let's not forget Jacque Roumain and the Marcelin brothers; they captured something so raw in our culture that is lost. When it comes to poetry, I like Edzer Villaire and Massillon Coicou,
Katia: Where do Haitian writers fit into the reconstruction process?
Ketsia: We are to document. We have a duty to capture the old landscape. We are to record t he words of the elderly. We are to write down what was lost, so that those who come in the future may be able to see our past clearly.

Katia: Some say that Haiti needs new narratives. What stories would you like to see published in these post-quake times?
Ketsia: I don't necessarily agree that Haiti needs new narratives. Writers need to write what is in their hearts and minds—never mind what others say.
Katia: Ketsia, I thank you so much for sharing a bit of your life with VoicesfromHaiti. I am grateful to you for that. What are you most grateful for in your life right now?
Ketsia: I am thankful to God for my family. I'm thankful that I was born at this time and not in some past century. I'm thankful for the educational opportunities that I've had and for my writing community.
Katia: What advice do you have for new authors?
Ketsia: Don't give up. Believe in your craft.
On that note, we end this INNERview with Marie Ketsia Theodore-Pharel, but you don't have to stop here. Get to know this amazing writer by her work!
"Mercy at the Gate" published in Haiti Noir, edited by Edwidge Danticat, 2011.
"Cigarette Burning at Both Ends" published in The Butterfly's Way: Voices from Haitian Diaspora in theUnited States, 1999.
"Soup Joumou: Diary of a Mad Woman," African Homefront Magazine, 1996.
"Light Chocolate Child" Onyx Literary Magazine, 1995.
"The Mango Tree" in Compost Magazine, 1994.
Children's Books: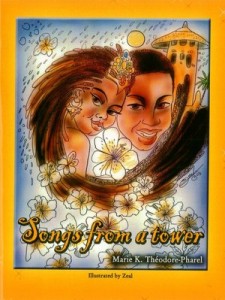 Songs from a Tower. Educa Vision, 2010
Beauty Walks in Nature. Educa Vision, 2009
Keeper of the Sky. Educa Vision, 2007
One More Daughter, America. Educa Vision, 2006
Daughter of the House. Educa Vision 2005
A Fish Called Tanga. Educa Vision, 2004
I'll Fly Away. Educa Vision, 1999