A VoicesfromHaiti InnerView with Celebrated Author Madison Smartt Bell
It's interesting to me the stuff that goes on within the author–the reasons inside the writing which no one sees, not even between the lines. Here, Madison Smartt Bells shares with VoicesfromHaiti his own private Haiti came to be.  I had an opportunity to read from Haiti Noir (Akashic Books, 2011) with Mr. Bell at the Enoch Pratt Library's Poe Room a while ago. What an honor that was!  Some of those photographs are shared below. Happy reading! -katia d. ulysse
VfH: How did Haiti first come to be a part of your life?
Madison: In stages.  I read some material on Haitian Vodou in 1980 or so, as background for my first novel, & wanted to know and experience more.  I didn't know of another way, in our time, to see God manifest in the flesh.
Then I read Ralph Korngold's Citizen Toussaint, in 1982 or 83, and thought, this (the whole saga of Toussaint and the Haitian Revolution) is an amazing story, which few Americans know; I could be the one to tell it to a larger Anglo audience.  It was like discovering a valuable secret.
VfH: What is your favorite thing to do in Haiti?
Madison Many, but here's one: to come into an enclos at the end of an arduous day, which usually will have involved a lot of heat, dust, and very challenging driving, and sometimes other risks…. and be able to let down my guard for the evening.  Sit on the gallery and drink a Prestige.  I have often been able to do that at the Hotel Jardins de l'Ocean au Cap, where the balcony overlooks the Boulevard de Mer and gives a splendid view of the harbor.  Your mind just empties out completely.  Even your ego (for a little while) is gone….
VfH: How has our portion of the island contributed to the person ( and the writer) you are today?
Madison: Again, there are many answers possible, but it has been very valuable to me to be able to enter a culture where material and spiritual matters are not divorced from each other, where the collective unconscious can be shared by the whole community, and where (because of those factors) magical thinking can actually work.  That of course can be dangerous if it doesn't go well, but ecstatic when it works out positively.
Before I ever went to Haiti I had a mystical idea of my own inspiration as a writer, and Haitian culture clarified that wonderfully for me, so that when I am writing I can simply be the serviteur of the story that wants to be told, and indeed enjoy a mild state of possession.
VfH: You've written quite a lot about Toussaint Louverture, which of the Ladies of the Revolution might you consider writing about?
Madison: The problem's not unique to Haiti: that before the twentieth century so many important women are (to borrow the idea of Rolph Trouillot) silenced out of history…. Especially women who didn't write letters or anything like that.  I admire tremendously what Marie Vieux Chauvet did, in La Danse sur le Volcan, to bring such women back to life.  Lately I've been interested in Defilée, (not so crazy as reported, some say…) in Marie Claire Heureuse, and in Euphémie Daguilh, who was Dessalines mistress aux Cayes according to Beaubrun Ardouin, though I suspect it will be difficult to find out much about her… and by the way if anyone reading this knows anything about these three, drop me a line at mbell@goucher.edu!
VfH: If you could see Haiti's fifty years from today, what do you think will be the most striking change?
Madison: My worst fear is that nothing significant will have changed at all.  History has been scaring me that way… since 1804.   I still believe, as I felt so strongly between 1995 and 2004, that a Haiti with an improved economy and a functioning, unoppressive government could be an example for the whole hemisphere.  There is so much in Haitian culture that the rest of the (First) world has lost.  Say that what Préval accomplished in the parish of Marmelade, during his retirement there between presidencies, could be done on the scale of the whole country.  And it can be.  Still.  But will it?
VfH: Where were you when you heard Haiti had had an earthquake?
Madison: In Baltimore.  I was a couple of days away from a trip for a residency at The Studios of Key West.
VfH: What were your first thoughts?
Madison: Shock… and then I spent most of the first few days doing the same thing as all moun dyas were doing: scrambling around on the internet and such to try to find out if various people were alive and okay.  Though I spend most of my time in the north, I have a couple dozen good friends in Port au Prince and I feel very lucky not to have lost any of them, though several were MIA for so long I almost gave up.  (These were ti nèg who got flushed out into the refugee camps and went a long time with no communications).
I packed a bag for Haiti the first night, thinking I might go from Florida, but my second thought was that I didn't have the skills of a first responder really, and that I didn't want to go there to capitalize on it as a journalist.  I did any way have fifteen minutes of fame as a "Haiti expert" while staying in the States (a lot of my time in Key West was spent on interviews and Huffington post pieces and things like that) didn't turn that down, hope that I at least said something true.  The best I felt I could do was direct donations to proven organization like Lambi Fund, Fonkoze, Farmer's Partners in Health….
VfH: How do you feel about the progress being made on the island post-quake?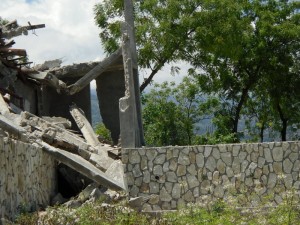 Madison:  Head in my hands type of thing.  In the beginning I was in the group that thought there was an opportunity—start over with a clean slate and all that.  But the sluggishness of response has been very disheartening.  The desperation of individuals I know (at the ti nèg level) has done nothing but increase.
I feel hopeful for Martelly's administration—have not followed it closely but I wish him the best.
And I remain a supporter and admirer of Préval.  One forgets now how much improvement really had been gained at the time of the earthquake… (that's one of the most distressing things about it).  I think his second administration had been remarkably successful, up to the point that Godzilla stamped on it.  And I wonder if there was anybody else out there who could have done better during the post earthquake days (there were doubtless some who could have looked better but that's not the same thing, and I respect Préval for not caring about appearances during those terrible days).  The comparisons to Guiliani during 9-11 are fundamentally false.  Guiliani had response systems behind him that were functioning extraordinarily well.  Préval had, well, nothing of the kind.
VfH: Are you surprised by the number of homeless still in the tarp cities?
Yes and no.  It's really hard to rebuild anything when you can't find a place to stand.  And the planners keep being outdistanced by circumstances; that is, the throngs move ahead of them.
One of the perceived opportunities of the quake was decentralization.  Move people out of the PauP slums into the communities they came from…having first, of course, made those communities somehow sustainable… as indeed Préval had done in the parish of Marmelade.   But those communities got hit by waves of reverse migration before any preparation at all had been made to receive those people.  I know one of those places (not far from Bwa Kayiman) fairly well.  The ti nég there had exhausted even the charcoal and turned to mining rock for gravel.  That was the new cash crop.  And then they get washed over by earthquake refugees.
I have always believed that it's very unlucky to say, It can't get no worse, and Haiti keeps proving it over and over.  Think the earthquake was the bottom?  Why, here's cholera!  And not only that but the cholera is introduced by the very people who were supposed to be there to help you, and…
 So Haiti represents (I think it always has) the best AND the worst of human possibility, and one of the many things it is, is a canary down the global coal mine.  Food prices go up forty percent, and in the US people change brands and begin to buy more beans, less steak.  In Haiti, people start eating dirt.
And most people in the U.S. look at that situation and think, how awful, meaning how alien, like it was something happening on some other planet… but it's closer than we think—and I don't mean just the surfboard ride to Miami.  I mean that economically the U.S. is more dangerously dependent on China than Haiti is on the U.S.  Some ordinary citizen of Middle America said, gazing down a street of foreclosed, vacant and derelict houses, "Y'know, we're starting to look more and more like a Third world country with a nuclear bomb….."
VfH: If you were to write a new book about Haiti today, what would that title be? What would the last sentence be? (And why?)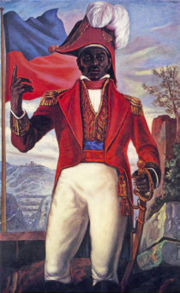 Madison: I will actually be working on a biography of Dessalines next year, under the auspices of the Leon Levy Center for the Biography at CUNY in New York.
Meanwhile…
In the back of my mind I've for a long time been thinking of a novel about modern Haiti to be called "Nine Lives," after a proverb a friend told me: "An Ayiti, fòk nou mouri dis fwa pou'n jwenn lavi."
HOME VoicesfromHaiti. Honoring the Past. Celebrating the New Journey. –Katia D Ulysse