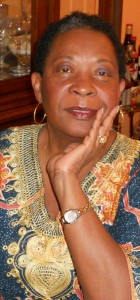 The single mother with a three year-old girl-child in her arms never turned in an assignment late. She planned to get a PhD in sociology; nothing would stop her. En avant! Today, Dr. Carolle Charles is a respected faculty member in the Department of Sociology at the college that is part of the City University of New York. She teaches and researches issues that focus on structures and practices of social inequality.  VoicesfromHaiti is pleased to share this INNERview with Dr. Charles.
For those who do not know what Carolle Charles, Ph.D. does, please tell us.
I've been called an activist scholar. I take my role as a female sociologist very seriously. When I came to the United States, I was fortunate enough to join a group of young Haitian immigrants—among them Michel Rolph Trouillot–that was extremely conscious of the need for real social change in Haiti. We sought to promote racial and gender equality.
During the early 1970's, I left the United States to study at the University of Chile. That was a turning point in my life; it radicalized my perspective. In 1974, a violent coup in Chile forced me to return to North America. I made my way to Montreal, Canada. I enrolled in a Master's program in political science. It was there that I met Haitian feminists Myriam Merlet (who died in the devastating 2010 earthquake) and Adeline Magloire Chancy, who became one of the ministers of the Woman Condition
Tell us about your childhood.
By the time I was born, my parents had had three sons. I came in April, 1949. Not long afterwards, my father had 2 more boys—by two different mistresses. Nonetheless, I was their first girl. Everyone was thrilled. In the end, we were 5 girls and 8 boys—seven of whom were not my mother's, but friends and relatives regarded us as 'regular siblings' just the same. Looking back, I see a childhood that was complex and painful.  Things were particularly difficult from my mother's perspective.
What is your best childhood memory?
There are multiple. I loved going to the beach; to eat baignets in Bel-Air; spend time with my maternal grandmother in downtown Port-au-Prince. It was wonderful to travel outside of the country with my mother; she was very involved in politics.  I used to love to wait for my godmother and also great-grandmother to come to town from Pestel. Every visit meant I would receive gift-money from them. As I grew up, I also enjoyed going to soccer games, to movies. I loved the theater and music festivals. I have good memories.
What is the worst memory?
The fights between my mother and father were horrible. There was constant bickering with my father's relatives. I was annoyed by the existing inequalities. I wish my mother had divorced or moved away from my father and his relatives much earlier than she did.
Any words of wisdom for parents now raising children in Haiti?
Do not stay in a destructive marriage just for the sake of the children.
When and why did you leave Haiti?
My mother migrated to the US in 1962. I joined her in 1967. I had just taken the first baccalaureat, class de rethorique. I was 17. I went back to Haiti in 1972 by way of Santiago,Chile. I was recently married, and went to visit my in-laws. Because my husband and I were involved in 'Diaspora activism' against the dictatorial regime, our visit was a frightening experience.
With the uprooting of the Duvalier regime in 1986, I started to participate in political activities in Haiti with those who are concerned with gender issues and the processes of change. I was also involved as a consultant in evaluating development programs and in assessing gender practices among feminist groups and government institutions.
Which of the two countries do you call home: Haiti or the US?
For me the whole concept of home is transnational. I love being in Haiti because of friends and the people. I love parts of the culture. Haiti can be very alienating from the perspective of a single woman, unfortunately. There are too many fields to negotiate.
Home is also the United States. Here, I am not consumed with resolving daily subsistence activities or challenging some outdated and oppressive social norms.

You are among the intellectual elite. Do you think you would have accomplished what you have had you stayed in Haiti?
I doubt I would be involved in as many different projects had I stayed in Haiti.  As we know, it is not easy to break the barriers women encounter when they work for change.
What are your thoughts on the state of education in Haiti today?
Catastrophic, yet still producing great minds. I've always wondered how this can happen. The system is a failure from the bottom up. However, there are people with good intentions and a mission to change things against all odds. They work to bring about change, but corruption, poverty, elitism, conservatism tend to undermine the move. The task is humongous.
Who or what inspired you to do what you do?
My biggest role model was my mother. In spite of her own limitations and struggles, she was able to take care of her family. She was always a hard worker and an engaged citizen. I remember vividly the day my mother came home in a taxi with only one shoe. She had been participating in a demonstration in front of the national jail, calling for the release of a certain political prisoner. I must have been five or six years old.
Where were you when the EQ struck Haiti on January 12, 2010?
I was at a board meeting of a community based women centered organization in Brooklyn. My sister called and told us to watch the news.
Was everyone in your family safe?
Everyone was located soon thereafter. The most difficult news was the staggering loss at CONAP, the umbrella of women and feminist organizations to which many of my dearest friends and colleagues belong. The earthquake robbed me of Myriam Merlet, Magalie Marcellin and Anne Marie Coriolan. I still grieve today.
What did you think about the world's response to the catastrophe?
It was outstanding, but I believe this is what humanity is for—that capacity as human beings to show solidarity in times of need.
What are your thoughts now about Reconstruction? What role do you see educators like yourself playing in Haiti's Reconstruction?
I am very skeptical. I do not see real progress. The responsibility for that failure rests both the Haitian government and the international community.
One of the reasons for that failure is the systematic opposition to look for diaspora participation in particular in the field of education. Haiti has that unique pool of human capital that they could tap into for the Reconstruction process. This is not happening. And this is sad.
Where do you imagine yourself 5 or 10 years from now?
I hope to be in the retirement process. I hope also that I will be a grandmother.