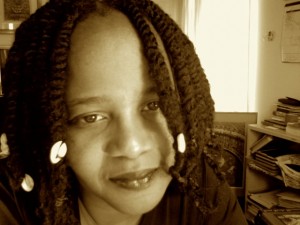 Millions of readers have enjoyed Danticat's short stories, personal essays, op-eds, and interviews in publications such as The Wall Street Journal, The Oprah Magazine, The New Yorker, and [The] Essence. If you are one of the few who has not read her work, better get started. She's one of the most prolific writers worldwide.
This VoicesfromHaiti InnerView is in three parts: Edwidge shares anecdotes about her personal life; she discusses Haiti; and  she answers questions from one of her biggest fans, Thomas Ventre.
Thanks for visiting VoicesfromHaiti. Enjoy your view of the artist behind the art.  Happy reading!
katia d. ulysse
VfH: What does the word "hope" mean to you? Do you believe in it?
Edwidge Danticat: That's a good one to start.  In my family, I'm not really known as a hopeful person. I am the one who sees the worst case scenario first. I take everything to its saddest conclusion in my mind. Hope is a balm to someone like me because I really have to work hard at being hopeful. Children make me hopeful. You see so much possibility in their eyes. I see hope in moments like that, when a child is born. New beginnings give me hope.
VfH: Had you always imagined your life would be what it is today?
Edwidge Danticat: People sometimes think your life is different than what it is. My life is mostly two small  kids, an elderly mother and mother-in-law and of course her fabulous son. I have three wonderful brothers and seven nieces and nephews, but only one of my nieces lives in the same area as I do.  I mostly do mundane things. I pick up kids from school. I surpervise playdates. I make meals and in the middle of it all I try to write the best things I can at the time. I live a very simple life.  I have a few  good friends, but not volumes of friends.   I am probably not living the kind of life people think I am.
VfH: When you see your name in print or your face in a magazine, what goes through your mind?
Edwidge Danticat: That I'm going to make somebody mad or that someone's going to hate me. That I'm taking up someone else's space. I know it's crazy, but that's usually my first thought. But I still take part in it, so I'm not exactly a recluse. But there's always that feeling, why me? Actually someone once said that to me–a young female writer, who thought my kind of writing was keeping hers from getting published– "It should be me there." And I was like, yeah, I agree.
VfH: Do your kids understand that Edwidge Danticat is one of the most celebrated writers in the world, or are you simply Manman? 
Edwidge Danticat: I am simply Manman. This continues the question above because having kids have really helped me see a larger world. I love having a life beyond writing, one that is not dependent only on how many books I've sold, what my rating is on amazon or what someone is saying about me on a blog. At the end of the day, sometimes I'm lying between my two little girls and they have their arms around my neck and I say to myself, what have I ever done in my life to ever deserve this kind of joy. Not that there are no difficult times with small children, but I feel now when I write that I am building a library for two little girls` whom I love beyond words, if you will excuse the corny pun.
VfH: Historically the island has been widely populated with artists. What role do you see artists playing in the reconstruction?
Edwidge Danticat: Haitian artist have always offered an alternative view of Haiti. I think that's one role they've played. They offered an alternate reality, other visions, if you will. Many are on the ground, helping other artists. They are offering ideas, support, while also creating, which is one of the greatest gifts they can  give us, their work.
VfH: What books are you reading right now? 
Edwidge Danticat: I am rereading Reflections of Loko Miwa by Lilas Desquiron in a Robin Orr Bodkin translation. I'd so love to see that book reissued in the US. It's been out of print a while. I love Lilas' work and that's a wonderful book. I'm also reading in French La Memoire au Abois by Evelyne Trouillot, which won the Prix Carbet, a French Caribbean prize, last year. Our Haitian women novelists are world class. I am traveling with those two wonderful voices now.
VfH: You have always worked very hard. I say this because for years when I would get an email response from you it would be at 3 or 4 in the morning. I would ask myself, Does she ever sleep? I imagined you were at that computer, pounding away.  How do you find time to be as prolific a writer as you are with two children and a husband?
Edwidge Danticat: I have a Miami friend who keeps the same hours. She's a big web person. I always tell her  that my children save the world from a lot of drivel. They offered the world a great service in that way by being born. I used to not need a lot of sleep, but as I am getting older and with the kids, I sleep a lot more. I don't really feel like I write a lot. I love writing and I have been lucky enough to have not done much else, for a bit, but write and raise my kids. I know I am so very lucky and I count my blessings every day. I try to live simply. I pace myself financially so I can drag that out as much as possible, to be as much home as possible with my kids and writing. If you've been writing a while, you don't really write as much because there are so many ideas you rule out. Sometimes, I get ideas for a story then I say to myself, i can't write this because it's too much like something else I've done. So I have to work harder at it, dig deeper to do something different than before. But I love writing so much that before my children that's all I did day and night. As a result, I didn't live as much as I am now because my kids force me out of my head and into the world, even at 2AM.
VfH: If you could change one thing about Edwidge Danticat, what would that be?
Edwidge Danticat: How much time do you have? I'd be more disciplined for example to exercise and lose baby weight. I'd be less impulsive on some things and try to shake the oldest child habit of always trying to tell some people in my life what to do.
________________________________________
 Edwidge on Haiti
VfH: For the first time in history several Haitian ex-presidents and political rivals are living on the island together. What does that say about today's Haiti?
Edwidge Danticat: I am not quite sure because there are so many complicated  issues involved. Perhaps it says that Haitians are very tolerant.   I hope though that some of the exiled generals are not on their way back.
VfH:   With an estimated 800,000 people still living in tent camps and hurricane season is just around the corner, what question do you think we should ask of ourselves and the new government? 
Edwidge Danticat: First we have to have a government. That's still in the making. We don't have a prime minister yet, so without a prime minister you don't have a government. We should perhaps ask ourselves what we are each doing to help on our own. And we should ask the government and the local authorities, among other things,  to stop evicting people who have no place to go. But the most important thing it seems is to have a government, because everything is on hold until then.
VfH:  Haiti has moved out of the headlines, how does that help or hurt the country? 
Edwidge Danticat: Haiti is used to this ebb of flow of attention and no attention. Ultimately Haitians will have to rebuild Haiti for the long haul so if the attention helps in anyway with self empowerment and sustainability, it's good, but if it's just so people can pity us, it's not much help.
VfH: How can an individual continue to help?
Edwidge Danticat: Again, you can take stock of your skills and see what you can do. If you are a teacher, you might be able to teach a class by skype. My husband for example writes books for kids in Creole. We try to support grassroots projects that are run by Haitians who are working  in their home communities. If you are not Haitian, find sustainable grassroots projects to support or groups that work with local people, who have been on the ground for a while and support them with your presence–if you can–money, knowledge, all with the hope of teaching people to fish rather than giving them a fish for a day.
VfH: Haiti has had a tumultuous past, and the tumult continues in many areas. In what ways can you suggest we honor the past and celebrate the new journeys? 
Edwidge Danticat: Rituals give us a lot of opportunities to celebrate or mourn. I think there are many necessary rituals built into Haitian life. You have the day of the dead celebrations and the independence day and flag day, each with its  own meaning. Sodo. Bwa Kayiman. The fèt chanpèt. Carnival. We have communal celebrations and commemorations. I think we let a bit out at each of those moments.
VfH:  I read in the Wall Street Journal that you took your mother to Paris for the first time following Oprah's selection of Breath, Eyes, and Memory for her book club. How did it feel to be able to give your mother such a gift?
Edwidge Danticat: My mother loves to travel. I've always been called pye poudre, which means powdered feet, someone who never stays still. I love to travel, both with my body and my mind. My mother is the same way. The one thing I wanted to do for my parents when I made any money was to help them travel. Turns out my father didn't like traveling so much so my mother and I have traveled a lot together. We've been to a lot of states, some of the Caribbean, to Japan, to Paris. It's been a dream come true to travel with my mother. I was in Haiti for eight years without my mother as a girl, so traveling together has given us a chance to get to know each other better, as women, as adults.
VfH: Your father changed his mind about going to Paris in the last minute. You then decided to go with your mother. Given that your father has since passed away, do you wish the three of you had taken that trip together?
Edwidge Danticat: No because I know he would have been miserable. My father and I  took several trips to Haiti together after he had not gone back for twenty years. I loved showing him the Haiti that I had gotten to know without him. Our trips to Haiti were very magical.
VfH: Do you think his decision not to go to Paris was his gift to you and your mother?
Edwidge Danticat: He just didn't like to leave home, except to go to Haiti.
VfH: Growing up in Brooklyn, your parents thought your safest bet for the future would have been to become a nurse or doctor. Was there ever a moment when you wished you had taken their advice?
Edwidge Danticat: After the earthquake, I wished I had become a doctor. I wanted to be on the first plane out helping to save people, but I had a baby on the breast who was underweight because she was not eating and I couldn't even go right away. It was the only time I thought I should have become a doctor, but I could have been a doctor with an underweight baby on the breast and still have been unable to go.
________________________________________
VFH: The following questions are from one of Ms. Danticat's biggest fans, Thomas Ventre, an English teacher in Maryland.
Thomas Ventre: What would you want me to tell my students about Haiti? What do you think they and other young people should know about the place?
Edwidge Danticat: Thank you Thomas. I'd say that  along with all you've seen,Haiti is  a beautiful place, a deeply spiritual place, a chaotic place but super special too, definitely one of those places you need to explore beyond the surface because once you get to know it is steals your heart.
Thomas Ventre: "As an American who has worked in the development sector, I have been almost trained to view Haiti as a tragic, nearly hopeless landscape in need of a saving grace. How significant an impact on your writing does this sentiment have, if any? In other words, how often do you write with the goal or purpose of trying to "save" Haiti?"
Edwidge Danticat: It would be both naive and crazy arrogant for me to think that my writing could save Haiti. My writing probably does harm to Haiti. it's not always rosy, but I am trying to write the most complicated and layered stories I know how  and I hope that as a side effect, they make people curious about Haiti and Haitians and Haitian-Americans and lead them to read more about Haiti, read more Haitian and Haitian-American writers, and  learn more about the country and find ways to know it in a much deeper way.