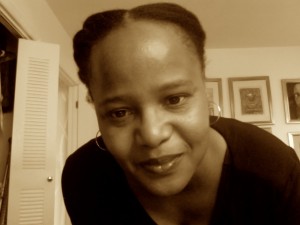 Did you know Edwidge Danticat could act?
I didn't, but I was not surprised when I saw her on the big screen recently. The celebrated author eased into the character's skin and nailed the part. Danticat embodies the Creative Haitian Spirit. VoicesfromHaiti exists to celebrate just that.
I met Danticat in 2001. She had published a story of mine in an anthology called, The Butterfly's Way.  Since then, I've had the good fortune of working with her a few more times, but I didn't know about the acting side of this phenomenal woman. When I saw Stones in the Sun, I could not wait to find out more about Danticat, the actress. I figured you might be interested in knowing a few things, too.  So. . .here is  our little Q&A.
Katia D Ulysse: What this your first time in a film?
Edwidge Danticat: I used to work in film. Actually my first job out of graduate school was with a production company called Clinica Estetico, which is owned by Jonathan Demme. My first time in a film though was as one of thirty women who try to rescue Oprah Winfrey's character, Sethe, from her ghost of a daughter in the film adaptation of Toni Morrison's novel, Beloved.
Katia: What about this  script that spoke to you?
Edwidge: The writer and director of Stones in the Sun, Patricia Benoit,  is like a sister to me. We met about twenty years ago at Clinica Estetico. Neither one of us has a sister so we adopted each other. She has been writing this  script for a long time. I have seen it go through all these different stages; I was really happy that she decided to go for it, and film it. When she asked me to play one of the sisters in the film, at first I said no. I'm not an actress plus I had just had a baby. I didn't want to take on something I couldn't pull off, but she talked me into it and I decided to go for it.
Katia: Were you nervous about playing the part?
Edwidge: Once I decided to do it, I put myself totally in Patricia's hands. I basically said to her, you think I can do this, now show me how. There are other non-professional actors in the cast as well. James Noel, for example, a poet, is also in the film. I also had a lot of support from my screen sister, Michele Voltaire Marcelin, who is a professional actress. The only challenge was filming, both inHaitiand inNew York, with a baby and toddler in tow. My daughter, Leila, was just a few weeks old when we went to Jamel for the first half of the shoot.
Katia: Had you thought about acting before?
Edwidge: Not really. I am pretty writing focused. Working at a film production company, I saw  how hard good acting can be. I've seen the best at work during my time at Clinica, from Denzel Washington in Devil in a Blue Dress and Philadelphia to a lot of other great actors we worked with. It takes a lot out of them and it's a calling. I feel very lucky to have had this experience, but I don't suddenly consider myself an actor.
Katia: What similarities are there in acting and writing.
Edwidge: You have to totally step into a character's skin. You have to try to know them inside out. I have always thought of that as a commonality between writing and acting.
Katia: What was it like on the set with the other actors?
Edwidge: It was wonderful. I especially enjoyed the time we spent shooting inHaiti. We were shooting there with the students from Cine Institute,Haiti's only film school, and they were amazing. Working on a film like this, you feel a kind of camaraderie with everyone working on the film–actors, crew–because you are doing it for the love of it because you believe in someone's vision and what she has to say about this time in our country's history and how we were all affected by it.
Katia: What did you draw upon to be able to deliver the powerful performance?
Edwidge: My character is pretty melancholy and unfortunately  I have many sad moments in my life to draw from. And since Patricia knows them all, she kept reminding me of them.
Katia: Was there a particular memory that assisted you in getting into the character's skin?
Edwidge: I thought of all the people I've lost in my life, under different circumstances, from the time I was a child, during the dictatorship, to the recent losses of my uncle and father.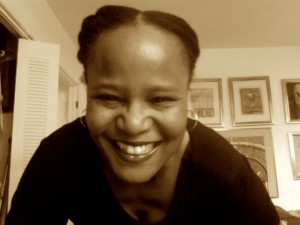 Katia: How much of the character was you?
Edwidge: She's Patricia's creation.  My character is a wonderful  idealist though, someone I would like to be.
Katia: Should we expect more film roles from you?
Edwidge: Well I didn't see this one coming, so I won't say no. Let's just just si Dye vle, God willing.
But Patricia and I will work together again for sure. We are going to write something together, based on her work with the grassroots peyizan movement inHaiti.
Katia: I'd like to see your books turn into films.
Edwidge: Me too. There is a wonderful team working on making "Caroline's Wedding" from Krik? krak! Easmanie Michel and  France Luce Benson. And Peter Pericles is doing a short based on a short story of mine called "In the Old Days".
There is also this short by Rachel Benjamin based on "The Missing Peace" from Krik? Krak! http://vimeo.com/26077229 It's very exciting to me to see so many Haitian-American filmmakers at work.
Katia: I agree. Beside myself, who else would you like to see play in your films?
Edwidge: Of course, you. And Garcelle Beauvais and Jany Tomba. And Jimmy Jean Louis who's Toussaint Louverture mini series I just saw. He was amazing in that.
——————————————————————
This ends the Q&A with fanm vanyan author and actress Edwidge Danticat. If you have not seen Stones in the Sun, you're in for quite an experience.  Check out the VoicesfromHaiti INNERview with Edwidge's screen sister, poet, performer, actress, author, Michele Voltaire Marcelin.
By the way, if you haven't read Edwidge's books, run to your favorite book store.
Breath, Eyes, Memory (young adult novel, 1994)
Krik? Krak! (stories, 1996)
The Farming of Bones (novel, 1998)
Behind the Mountains (young adult novel, 2002, part of the First Person Fiction series)
After the Dance: A Walk Through Carnival in Jacmel, Haiti (travel book, 2002)
The Dew Breaker (novel-in-stories,2004)
Anacaona: Golden Flower, Haiti, 1490 (young adult novel, 2005, part of The Royal Diaries series)
Brother, I'm Dying (memoir/social criticism, 2007)
The Butterfly's Way (anthology editor)
Create Dangerously: The Immigrant Artist at Work (essay collection, 2010)
Haiti Noir (anthology editor, 2011)
Best American Essays, 2011 (anthology editor, October 2011)