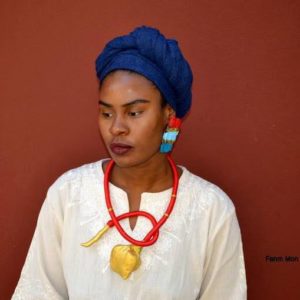 INNERview with Sophia Demirtas, Owner and Creative Director of Fanm Mòn
VoicesfromHaiti: Someone comes up to you, and pops the cliché: "What do you do?" How do you respond?
Fanm Mòn: I tell them that I live as an artist. People tend to expect so much from you. I cannot live up to everyone's expectations. I do what is best for me and my family. I have never been particularly comfortable with the tittle "designer." Some people go to school to learn the ins and outs of fashion design. My own process is different. Everything comes from deep within; not sketches, etc. My creative energy is sacred to me.
It's taken a while, but now I know precisely who I am. I experienced hardships from an early age. I learned about the hypocrisy in society. People reject you with one hand, and embrace you with the other. I had to learn it was not enough to embrace myself with both hands, but safeguard myself against pessimism and disapproval better than any other soul would.
VoFrHa: Who influenced you the most?
FM: I never forget my aunts. I grew up with very strong, direct, outspoken, wise women. When I'm faced with difficult situations, I think of them, and know just how to proceed.
VoFrHa:  The moniker you adopted for your brand evokes mixed emotions.  A Fanm Mòn (Mountain Woman) is perceived to be coarse, uneducated, unsophisticated, and simple-minded. Why did you choose that term?
FM: Those who are familiar with the term Fanm Mòn know the stigma associated with being considered a "Mountain Woman." The general idea is that people from the mountains are of the lowest caste. I wanted to show the fortitude and wisdom that exist within all fanm mòn(s). We determine who we are. I embrace "Fanm Mòn" as I do myself. I accept it with all the pain it brings to those called by it. I want to share with the world a side of "Mountain Women" they never knew existed.
VoFrHa: How does your birthplace and childhood home influence your work?
FM: I was born in Port-au-Prince, Haiti. In terms of my work, my birthplace is inescapable. Our African ancestry is present, in one way or another. Tribalism is the umbilical cord of the universe. Regardless of the story, culture, or tradition, every nation on earth has a link or is attached to it somehow. My jewelry is inspired by the tribes of the world, particularly African.
VofrHa: You travel a lot and are a citizen of the world. Where is home?
FM:  Currently, I live in Turkey with my immediate family. I did my best to build a business in Haiti, prior to my decision to move to Turkey.  It was challenging.  We had children. In the end, motherhood became my priority.
VoFrHa: Many Haitians in the diaspora long for home, and find ways to bring home with them. How do you do that?
FM: I fill my home with Haitian art. I cook Haitian food mostly. I miss Haiti a lot. For this reason, I decided to give Haiti another try. I am building a team of talented artisans to create some exclusive pieces for the Fanm Mòn brand. Technology makes it easy to be connected to Haiti on a daily basis. That is wonderful.
VoFrHa: Everyone has his own private Haiti. What do you want people to know about Fanm Mòn's Haiti?
FM: Because I travel a lot, I have come to know that most of the same troubles we face in Haiti happen around the world. Poverty and dirty politics are global issues. The world is suffering, not just the people of Haiti. I wish nothing m
ore than for Haiti and the rest of the world to be in better condition.
My private Haiti lies in the heart of the people. When I think of Haiti, I do not only see art, beaches, and food. I remember our dedication to rise again and again. When I am in Haiti, the conversations, laughter, and realness deepen my love for my people and culture. Being there fills me with the sense that things are never so bad enough that we cannot find some level of happiness.
VoFrHa: Describe your creative process.
FM: When I create, I am 100 percent attached spiritually, and partially detached physically. Oftentimes, I do not know what the final product will look like until it is done. My mind becomes blank, my soul rejoices, and body is obedient. I do not think, I only feel. When war and disasters are active, I cannot tie a simple knot with thread—even if my life depended on it.
VoFrHa: How long does it take you to create one piece?
FM: Some I make in less than an hour; others might take a day, a week, a month or many months. I work on one piece at a time. I do not push myself to finish a piece, because I am not very present when I make them. I let everything run its course. Time is irrelevant during my creative process.
The other creative aspect is now shared.
I took on the role of creative director recently, which enables me to work on a more conscious level. The business side of art is necessary. Recently I invited two other talented designers to come onboard.
VoFrHa: Surely you want your work in as many stores as possible. Have you ever experienced rejection?
FM: The most painful experience I've had was not due to rejection. Not everyone will consider my work a good fit for their shop. When you get too emotional about rejection, you are the ultimate looser.
When a company tells me no, I search within to see what can be done, not just to turn their no into a yes, but to make them come look for me. So when I am rejected, I become much more driven. When someone tells me no, the automatic response in my head is: "No, for now."
Some people in the industry take themselves too seriously. When others do not value your time and effort, especially after they portray themselves as professionals, it pisses me off more than anything. I was new to networking on a business level; I was naive to think that respect and honesty were standard. When I realized how wrong I was, it took a toll. But I'm a quick learner. In the end, the experience made me sharper.
VoFrHa: What keeps you going?
FM: I am a woman, a mother, a wife, an artist, and now business woman. When the frustration grows, I control my thoughts. Instead of complaining, I go into this profound dialogue with the universe, my creator, intuitive and spiritual guides. I am not religious, but I believe in receiving back what we think, do, and put out into the universe.
VoFrHa: If you were not a designer, creative artists, creative director, what other path might you have taken?
FM:  I would be involved in education and rebuilding communities in Haiti. Either way, I am determined to do this before I pass on.
VoFrHa: What advice would you give new designers?
FM: You do not need to convince anyone of your worth; you do not need to pressure anyone into accepting your work. If they cannot appreciate and or respect your art, then you should not pursue them. Work hard and let them come and look for you.
Follow fanmmon on Instagram: @fanmmon