I like the concept of placing Haiti in the future. We have to imagine the future. American culture imagines its future all the time, whether it's ten or one hundred years down the line. . . It's a way to step back (and forward), and see the larger picture of who we are. I want to see more futuristic fiction. Haitian Sci Fi. Why not?
Imagination, in a way, is a luxury. It's a luxury to be able to write and have others read your work; and then there's the added socio-economic divide in the publishing landscape; there is the question of who gets to tell the stories. Still, Haiti is moving toward new narratives. We have needed new narratives for a long time. A new narrative, however, can spring only from something huge happening—a shift in the psyche of the people. New stories are coming out from Haitian writers today, but we need more. The revolution gave us countless tales. The various dictatorships did so, as well. The earthquake has given us a major shift. We have to take advantage of that.
THE TRUTH BEHIND "The Harem"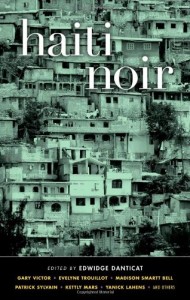 "The Harem" wasn't the first story I submitted to the Danticat. The first, a rèstavèk story, was rejected. I went from writing about child slavery to a Haitian philanderer during the earthquake. "The Harem" made it into the anthology. That story was inspired by the recent discovery that I have two adult siblings—sisters.
Six weeks before the earthquake, I met my half sister whom I had not seen since I left Haiti at the age of 4. She is 7 years older than I am. She had stories upon stories about my childhood and the circumstances surrounding my birth. We stayed up for nights and talked and talked and talked. Her memory is amazing.
My sister would tell me something that I half remembered from when I was 3 or 4; she'd give me a few more details, and the memory would come rushing back to me. Our conversations solidified the idea that memory is a muscle. Her stories expanded my world tenfold.
Seeing her face for the first time since I was 4 was mind-blowing. I realized instantly that I had not forgotten her face. If I had seen her in a crowd somewhere, I would not have taken my eyes away. I would have known there was something about her that connected the two of us. After those conversations with the sister I never imagined I would see again, something about 'memory' resonated with me. Memory is power.
In the six weeks following reconnecting with my older sister, all I could do was think about Haiti. I was ready to start telling the stories of my ancestors. It was as if the ancestors were now reaching out to me somehow. A shift had taken place inside of me.
REMEMBERING THE EARTHQUAKE OF 1/12/10
I remember the morning of January 12, 2010 very well.  I could not go to work because I felt ill. I had had trouble sleeping the previous night. I was unusually lethargic. I did not have the energy to lift a pencil. I was suddenly quite sick. . . for no reason I knew.
When someone phoned to tell me there'd been a massive earthquake in Haiti, I understood why I had been ill all day. Until then, it never occurred to me that I had been so deeply connected to Haiti, my birthplace.
My mother's reaction shocked me most of all.
For years I thought she was indifferent to Haiti. She was always opposed to me going there. In her mind, I was not Haitian enough. (I left when I was too young to understand anything). Haiti belonged to her. Only her.
She was the first person I called after I found out about the earthquake.  She met my call with silence. Then I heard sobbing on the other end of the phone.
She sobbed from a deep place. And then she was quiet again. Eerily silent. A tremendous void now stood between us. An emptiness. Distance.
While visiting her some weeks after the earthquake, my mother revealed certain things to me: An old secret, in particular, would change my life forever.
It was then that I learned the reason we left Haiti when I was just 4. My mother had run away. She had to leave. When I asked her why, she mentioned a childhood friend of mine back in Haiti.
My mother asked if I still had that picture of my friend and me together as little girls in Les Cayes. I told her I did.
"She is your biological sister," my mother said. The girl and I shared the same dad. My mother left Haiti to get away from the horrible relationship she had with my father—a well-known businessman in Les Cayes. She was trying to save herself, her young heart. She was trying to protect me.
I was thrown in the middle of the strangest plot. Within a span of six weeks, I discovered I had two sisters. My childhood friend/sister had survived the quake. She was alive. I learned she was also on Facebook! I sent her a message. She responded almost immediately. For the first time since leaving Haiti at the age of 4, I now had a reason to place a long distance call.
She did not know we were sisters. The truth had been kept from her, as well. She knew him—our father. He was a well known figure in Les Cayes. He had one of the most popular radio stations in all of Haiti. When he passed away in 1991, my newfound sister told me she watched his funeral procession on television—not knowing who he was.
I was the one who told her he was our father. She and I are three months apart.
After hearing those recollections from my two sisters, the story about a philanderer during the earthquake came to me. That is how "The Harem" was born. The idea of this guy who had these lovers whom he kept apart just flowed out. A disaster happens, and our protagonist (or, in this case, our anti-hero) has to save one. Which one will it be and why?
These experiences changed how I write. I am able to pull from a deeper place now. I wrote "The Harem" in two days. When I finished the last sentence, I just fell apart and cried. I had poured out all the strange new feelings I experienced after learning about my father and siblings. I submitted that story to Edwidge, and she accepted it for publication.
This is the only way I have to write from now on. A story has to resonate deeply with me. Imagination is a luxury for which I am grateful; I was able to use creativity to heal. I can see how I would have been stuck in a lot of pain had I not had that outlet.
The earthquake and my own circumstances surrounding it brought a shift to me as a writer. My creative world has expanded. When I first started to write, it used to be about the African-American experience. But that was not what I was supposed to do.
After the earthquake, I went to Haiti, and stayed with my new sister. We got along famously. She's like my twin. She is the sister I think I spent my entire life searching for without knowing. We look alike. We're three months apart. That's the closest two people can get to being twins without being born from the same womb, moments apart.
Check out Ibi's Blog!