VoicesfromHaiti celebrates the creative spirit of Mark Schuller, an anthropologist and "blan ayisyen."
Mark has worked extensively in Haiti, and recently edited Tectonic Shifts: Haiti Since the Earthquake. Check out his work in peer-reviewed journals, on the web, especially at Huffington Post.
Our little Q&A focuses on Mark's childhood, work in Haiti, FOOD, and his dreams for a better Haiti. Happy reading!
Katia D. Ulysse: Where you born? Tell us about your childhood home.
Mark Schuller: I was born in a first ring suburb of Chicago, Illinois. The house was a tract home built in the 1950s with FHA money. My parents, like many others, moved to the suburbs, creating a "white flight" – but then folks who moved further out made ours feel poorer by comparison, certainly in high school. In fact, we lost the house when, like millions of others, my dad lost his job.
KDU: How many siblings do you have?
MS: I have a twin brother and an older sister.
KDU: Did you get along well?
MD: We get along. My family was rather dysfunctional; my parents divorced soon after we turned 18. My sister and I knew we had to survive on our own, putting ourselves through college, and well, we kind of left not knowing if we'd return. My ssister now has beautiful daughters of her own. Today, our relationship is even stronger.
KDU: If you dig into your memory box, what's the oldest one you might find?
MS: Shoot. I was reading Goldilocks when I was 2 years old and then wandered off with a green salad bowl on my head, saying that I was Goldilocks. One of my sister's friends hauled me back home.
KDU: Share one story from your childhood that you don't think you'll ever forget.
MS: I will never forget the first time I saw Cabrini Green, one of the country's most notorious public housing projects. I think I was five, peering out the car window on our way coming from downtown. I had no idea people lived like that – broken windows, bars on the windows, trash not being picked up. And I won't ever forget when my mom reached back and locked the car doors. The message was clear, even to a naïve suburban white kid, but the irony was not lost on me either. I asked, aren't you just locking us in? I was told I couldn't understand. I think I did, all too well.

Mark Schuller on his Work
KDU: For those of us who do not know, please share with us what do you do.
MS: I am an anthropologist, before which I was a grassroots organizer. I have been working in Haiti since my first visit in 2001. Since 2003 I have been an affiliate at the Université d'État d'Haïti; I have taught four classes there, on NGOs and research methods. I study the impact of foreign aid and NGOs.
KDU: Who or what inspired your work in Haiti?
MS: I was an undergraduate at this isolated, small-town public liberal arts school, where there really was space for student activism. But the stakes were considerably lower, and the connection to the world outside was sketchy at best (it's an hour and fifteen minutes to the freeway, driving the speed limit). That said, a Halloween "prank" involving Klan impersonators galvanized a student movement against racism. I resolved to be an organizer, which I became, as well as a White anti-racist, which I continually try to be.
I was a co-facilitator for our school's Amnesty International chapter during the 1991-4 coup against Jean-Bertrand Aristide, an extremely violent and unstable chapter in Haiti's history. We were asking junta leader Namphy and the paramilitary FRAPH to stop killing, torturing, and raping.
So, I found myself intensely curious about what was going on in Haiti. Sure, I had heard of Haiti. But how could a good student get to college, and pass it, especially one who was active in a struggle against racism, without knowing a thing about the Haitian Revolution?
I had heard about the French Revolution, and the Cuban Revolution. But my textbooks – even in courses titled "World History" taught by a leftist Latin Americanist – just skipped the part about Haiti.
Thankfully for me, and for a lot of people seeking answers, Paul Farmer's The Uses of Haiti had just come out. It was only when I was a grad student that I discovered my hometown was founded by a Haitian.
It got under my skin: why has Haiti been so thoroughly dismissed, erased, from U.S. culture?
KDU: What do you consider to be the greatest achievement of your work in Haiti so far?

MS: I think it must be the film, Poto Mitan. In a gesture of giving back, of thanking one of the groups for their time and their wisdom, and in an effort to raise Haiti's profile, to raise standards for how Haiti is being portrayed, to raise awareness and funds, and to raise people's voices in demanding change, I co-produced/co-directed a documentary about Haiti, Poto Mitan: Haitian Women, Pillars of the Global Economy (http://www.potomitan.net).
Told through compelling lives of five courageous Haitian women workers, Poto Mitan gives the global economy a human face. Each woman's personal story explains neoliberal globalization, how it is gendered, and how it impacts Haiti through inhumane working/living conditions, violence, poverty, lack of education, and poor health care.
All were factory workers; however, most had been fired or laid off and all have migrated to the city in search of a better life after Haiti's peasant economy was destroyed. All but one, who came before the massive migration in the 1980s triggered by the destruction of Haiti's pig population, live in very crowded shantytowns that lack any basic services like water, sewage, and electricity.
While Poto Mitan offers in-depth understanding of Haiti, its focus on women's subjugation, worker exploitation, poverty, and resistance demonstrate these are global struggles. Finally, through their collective activism, these women demonstrate that despite monumental obstacles in a poor country like Haiti, collective action makes change possible.
The film has raised over $25,000 since the earthquake for Haiti's grassroots groups, most from my honorarium from screening it; I have personally presented it at over 40 campuses and public venues since we completed it in 2009.
On Haiti
KDU: You wrote that you were on vacation in Costa Rica before a two-week scheduled visit to Haiti when the quake struck. Surely, you were devastated. Now that  we are in the Reconstruction phase, what role do you imagine yourself playing in the New Haiti?
MS: Primarily, support for Haiti's research infrastructure. I taught a research methods seminar at the Université d'État d'Haïti twice since the earthquake, and I have worked with a dozen students on my studies of Haiti's IDP camps.
I hope my public anthropological studies – and my Huffington Post column – helps to shift the conversation about Haiti. I also brought together my colleagues from Haiti and elsewhere to publish a book, Tectonic Shifts: Haiti since the Earthquake. But I believe my primary role is to train and hire students in conducting quality research. I had an NSF grant that much of the funds went to reinforce the structure for research at my campus, the Faculté d'Ethnologie. They are building a audio-visual center with the NSF funds.
Now, even hardworking anthropologists have to eat. So, let's talk FOOD
KDU: Does Mark Schuller cook?
MS: Love to cook, and especially bake bread.
KDU: You spend so much time in Haiti, you must be beyond familiar with our cuisine. What is  your favorite Haitian dish?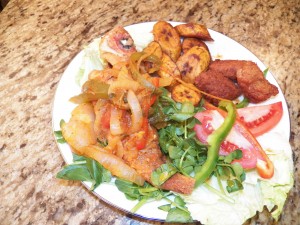 MS: That's a tough call. I love all Haitian food, although I am a vegetarian. Pulling out bones or crab legs from lalo is a challenge. I learned to share my chicken leg with someone next to me and strike up a conversation. But I digress. I would say a toss up between akra, diri djon djon, and soup (joumou). Akra is definitely my weakness.
KDU: Have you ever eaten a meal from a street-side food vendor in Haiti?
MS: It's another weakness. I do all the time.
KDU: Do you like a little, a lot, or no pikliz?
MS: As much as the machann fritay will give me.
On Gratitude
KDU: What are you most grateful for in your life?
MS: Honestly, I hope this doesn't sound too dip-shitty, but the opportunity to work alongside my friends, colleagues, and neighbors in Haiti. Particularly to have been asked to make Poto Mitan.I can't imagine what my life would have been like had I not become a blan ayisyen.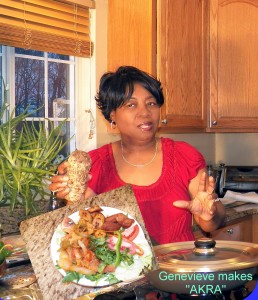 KDU: Thank you, Mark for taking the time to answer these questions. Best of luck to  you and your endeavors in Haiti.  For our friends who would like to make Akra, check Cooking with Katia soon to see how Genevieve Dumorne makes this delicacy.
MS: Thank  You.
Keep up with Professor Mark Schuller on his Huff Post column. Also, get yourself a copy of Tectonic Shifts: Haiti since the Earthquake.