Jeanie Bogart is from Les Cayes, Haiti. When she's not busy being a mom to four girls and a courtroom translator in New York, she pens some of the most luxurious poems in Haitian Kreyòl.
"I did not choose to become a poet," Jeanie explains. "Poetry chose me. The desire to write consumed me. There was nothing I could do. I was 14 years old. I would stand by the sea and write for hours. I did not want to do anything else. Don't ask me why. When people say they like my poems, it makes me feel that my writing has a purpose. I don't do it just for myself. We all share the same joy and sadness. I write also about Haiti. Of course, I write about my country; my poetry is about love.
Katia: It's interesting how you say "My country." Haiti is my country, too. Is there some specific thing that makes it yours?
Jeanie: No matter where I am in the world, Les Cayes is where I belong. I want the best for my country. I have great respect for my people. I won't stop fighting for this place. I met a doctor the other day who said he had been in Haiti recently. He said he could not understand why—with all our problems—should Haiti want an army now. Before I could answer that question, I reminded him there was already an army in Haiti, albeit a foreign army. Armies! The United Nations' men with their big guns walk down the streets all day long. They are army men. If anyone questions why Haiti wants an army now, I'd like to understand what the foreign army men are doing there. When they can answer that, then they can ask me why we need an army of our own.
Katia: Someone told me recently that people like you and me are obsessed with Haiti. And this place that we are so obsessed about doesn't even exist anymore. What do you say to that?
Jeanie: The systems continue to change; time and people have brought a lot of good and horrible changes, but Haiti will always be Haiti. It's always going to be home. Life on the island is nowhere near perfect, but it is home. This is why I believe we have to help in every way that we can.  No matter how little we think we have, we have to find the best way to contribute. We have to find ways to help our own people.
Katia: If you were not writing, what do you think you would with your life?
Jeanie: I studied journalism. I have worked in radio and television. If I could no longer write, I would talk. I would find a way to express my truth.
Katia: You've written beautiful books of poetry. How does it make you feel that so many cannot read those? If you could do something to impact the illiteracy issue in Haiti, what would you do?
Jeanie: We've made some progress, but we have a longer way to go. It's a positive thing that they've made the Kreyòl language part of everyday instruction. People struggled with French for a long time. Both languages are necessary in Haiti.  The trouble with education in Haiti is access. Schools should be affordable so that everyone has access to an education. The government has been corrupt for generations. We cannot rely on the government alone to educate our people. It's not enough to sit and wish we get a good leader some day. We have to hold ourselves accountable. It's going to take each of us doing a part to see to it that our people receive this basic human right.  My mother taught at a catholic school. There were people who worked for our household. My mother made sure everyone was taught to read and write. When I came from school, my mother made me tutor those neighbors' children who could not afford to go. That was just what we did.
Katia: What do you think about the rèstavèk issue: Children are forced to work long hours without pay when they should be in school? They are abused consistently. What are your thoughts about that?
Jeanie: The rèstavèk situation is cruel. It exists all over the world. Adults mistreat and abuse kids world-wide. That should not be. No parent wants to give her children away for the purpose of being beaten. We need to keep the discussion relevant, however unpleasant it may be. We can't throw a little money at the issue and then look the other way. We have to keep talking about it.
Katia: You and I are talking comfortably about these topics; we know Haiti. But when you talk with foreigners about the rèstavèk situation, for example, how does it make you feel? Do you ever feel ashamed for Haiti?
Jeanie: No. We know that is just one part of our country. There are other aspects—just as in any other country. Of all the bad things going on in Haiti, people should be amazed that suicide is not a huge problem for us. Haitian people are the strongest I have ever seen. We make it through. We want to live. We want to survive. Some of my compatriots have allowed very bad things to go on because of their own greed. But I am never ashamed of the everyday people. I am never ashamed of my country. Foreigners have a mental image of this Haiti that is so tragic and horrible. It is our responsibility to show strangers that we are so much more than that. One day it will be self-evident that we are not just a tragic little place. I may not live to see that day, but it will happen. Those organizations that have grown like djon-djon mushrooms all over the place thrive on telling the world that Haiti is all tragedy and nothing else. If you talk about shame, that is probably the only shame for me. That so many of my own brothers and sisters have allowed thousands of unscrupulous organizations to spread like mushroom all over Haiti is a shame! Many of these organizations don't have Haiti's best interest in their hearts. It's just an easy way to make a lot of money in a short time. It bothers me that many of our own people are now doing the same. Poverty is big business. And many profit. Inside and outside of the country, there are those who wait for the opportunity to snatch a little piece of Haiti for themselves. There are huge fortunes to be made.
Katia: What do you think the solution is?
Jeanie: Education. We have to tell our people that everything is not what it seems. But I understand the reality of a hungry stomach. I understand when a father has to watch his own children cry with hunger. I understand desperation. I am not sure what the solution is. I am not sure there is a solution. Perhaps the journalists can do a better job of informing the masses.
Katia:  Wouldn't it be dangerous for a journalist to take part in disseminating that kind of information. Those organizations have a certain amount of power. Wouldn't the journalist be afraid of losing his own livelihood?
Jeanie: It's always been dangerous to speak the truth in Haiti. One risks losing his or her life. A journalist may be aware of a situation, but is afraid to speak because his own children have to be fed, etc. I understand that. The radio station's owner might fire a journalist who talks too much. The newspaper's owner may shun this journalist, and in two seconds find 20 replacements. I understand that. It's not easy to be courageous. I know a few courageous ones who did put their foot down; and, of course, some of them are no longer with us. It's not the job of Haitians living on the island only. We are all responsible for the truth.
Katia: What do you tell your four children about Haiti?
Jeanie: I never miss an occasion to explain to them that the terrible things they hear are not always true. I have taught them the real history. It is important for my children to know what we have accomplished as a people. They cannot know who they are without understanding what their ancestors have done.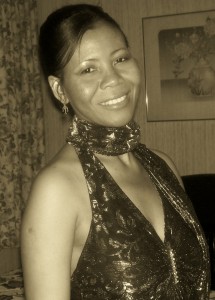 Katia: What's your response to those who suggest it would serve Haiti well if we could move beyond the ancestor stuff and build something new?
Jeanie: There are many great things we have yet to do, but we must never forget where we came from. We must not dismiss the past.  How else would we learn from our mistakes? Why shouldn't we celebrate our accomplishments, too? Other countries call attention to their accomplishments every chance they get. They're very proud of what they do; and rightly so. Recently, when they captured that well-known fugitive terrorist, people all over the world danced and cheered. They made T-shirts and waved flags and celebrated. When they win a soccer match, they wave their country's flag and take to the streets to shout with joy. Why shouldn't Haitians be proud of our own accomplishments? We should be proud of who we are and what we have done as a people.