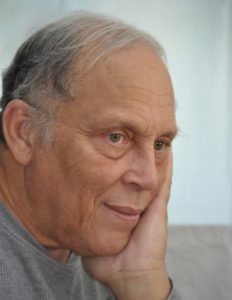 This INNERview with Josaphat-Robert Large–in his own words–offers  a personal view into the heart and mind of our beloved poet and photographer.  This great man joined the ancestors on October 28, 2017–Creole Language Day.  Read on to find out why the date of JR's passing is particularly significant.
~~~~~~~~~~~~~~~~~~~~~~~~
Josaphat-Robert Large: The harmony between photography and poetry—my two passions—is sustained by a common theme: The Image.  During the course of my classical studies in Haiti, I developed a great love for literature. In the beginning of what would become a constant and enduring attraction, poetry controlled held my heart. Because my school's official curriculum did not extend beyond the French writers' triangle of Lamartine, Hugo, and Ronsard, I had to attend all cultural events and recitations of Lamartine's Le Lac,  Apres la Bataille by Hugo; the one I probably loved the most  was Ronsard's  Mignonne allons voir si la Rose. (I should add Musset to this list).
When I was not completely submerged in reading, I went around town with my camera strapped around my neck. Fellow Jeremians called me 'The young image hunter.' I suppose that was true. In 1954, the only photos of Grand'Anse's destruction by Hurricane Hazel  were taken by the young man of eleven years that I was then.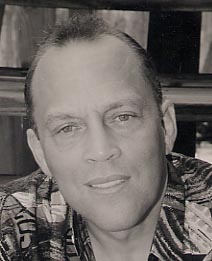 When I was forced into exile during the Duvalier dictatorship, I discovered through my reading and watching performances by the Troupe Kouidor's poets—Syto Cave, Jacques Charlier, and Georges Castera—the profound beauty of the Surrealist Movement. André Breton, in one of his manifestos, wrote: "The poem seeks a path toward the source of an image." This idea pleased me beyond measure. After reading Breton's words, my poetry became as much a quest for images as in the field of photography.
My early years in exile coincided with the emergence of the great street photographers. I am thinking of Cartier Bresson, Berenice Abbott, Dorothy Vivian Maier, and many others. I was working in Greenwich Village—the center of art in the seventies and eighties—and spent countless days in the famous Washington Square Park, taking pictures and writing poetry. I was fortunate enough to join a group of young American poets, and met Bob Dylan in a tavern. He wasn't as famous then.
My quest for images complemented my two passions perfectly: A beautiful photo would inspire a poem; a poem would urge me to take a picture that would illustrate the beauty of the verses.
""""""""""""""""""""""""`
Josaphat-Robert Large: The wealth of dissimilarity in people's faces further inspired my photography. The camera preserves what the eye cannot—that inimitable reflection of their existential worries, of the invincible hope that nourishes their courage. I try to capture on film the expression of sadness where a smile adds some joy; also signs of fatigue, where the beauty of a peasant woman is framed by gleaming drops of sweat. I love, early in the morning, to capture that very moment when the rising sun changes the colors of the sea.  As time passes, I realize and appreciate more and more the significance of growing up in a wonderful Haiti. I feel that I will always owe a lot of this country.
In addition to my formal studies at a well-respected school, I should tell you about a different sort of education I was fortunate enough to receive.  This education gave me a taste of real Haitian culture. This school was truly without borders and as vast as the public streets and tree-lined avenues. It was in those streets that my people's traditional oral literature found me and influenced the development of my writing.
This open-air classroom—conveniently located under an almond tree in my grandmother's courtyard—offered a wealth of stories, told in my mother tongue, for a change.
I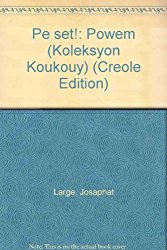 cherished the education I received under that almond tree, in spite of the fact that my main school, Frère de l'Instruction Chrétienne, prohibited use of  the Creole language even during recess.
Estimat Timèt, our yard-keeper, held court as master lecturer and skilled story-teller. His imaginative tales—some of which centuries old—teemed with surrealist themes that captivated me. I stored those tales in my memory. It is through Estimat Timèt's stories that I fell madly in love with my native language.
When I decided to write in Creole, it was important to me to explore every linguistic aspect of this language. I joined The Koukouy's Society,  Sosyete Koukouy, a group of writers dedicated to producing Creole texts as diligently as one would French—the respected language. It was with them I learned to write Creole correctly. I had as teachers two great creolists: Jean Mapou and Dr. Mirville. And I must confess: I feel more freedom writing in creole.
There is an innate and permanent link between the Creole language and inspiration drawn from Haitian culture. Let me mention quickly that when I write in Creole, I do not agonize over each word and sentence; I do not have to experience the uncertainty of a foreigner writing in French—some purist for whom Creole cannot convey the wonders of the imagination. My heart do not tremble when I write in French; it does when I write in Creole.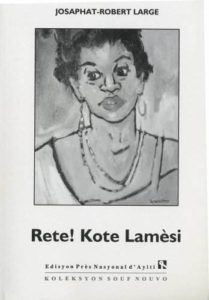 Linguists such as St. Fort, DeGraff, Oriol, Pierre, and Mirville have done plenty of research that substantiate the importance of providing instruction in a student's primary language. Young Haitian students in whose households the French language is not particularly a constant will only benefit from courses taught in his first language. Creole, in spite of what others may believe, can be used to teach all subjects: biology, mathematics, language arts, photography, and more. French should be learned only afterwards, and as a second language. These very educated and bilingual students will have a better future and choice of careers. It is imperative that the new generation value our native language.
–Josaphat-Robert Large  (November 15, 1942 – October 28, 2017
~~~~~~~~~~~~~~~~~~~~~~~~~~~~~~~~~~~~~~
You've just read Part One of the INNERview with beloved novelist, poet, and photographer, Josaphat-Robert Large .  Stop by next week to read Part 2 of our INNERview.