Master percussionist and bona fide tanbourinè, Markus Schwartz, reflects on his own private Haiti and his relationship with "the oldest instrument after the human voice."
Markus was born in Copenhagen, Denmark, but a part of him seems deeply rooted in Haitian culture. In English or in impeccable Kreyòl, he is direct and unpretentious. He speaks with reverence for the instrument he spent the last two decades studying. Though he has performed and recorded with top Haitian artists like Beethova Obas, Emeline Michel, and Wyclef Jean, Markus refers to himself as a student.
Of his first introduction to the tanbou, Markus says: "I don't think anything happens by chance. In West African tradition, they might call it Fa. Your life has a map. It's not an unalterable course, but I do believe certain things are placed in your path either to help you achieve your goals or to help move you from one period of your life to another."
Katia: Do people ever treat you like an outsider who infiltrated this integral part of Haitian culture?
Markus: The tanbou is a great equalizer. When I play, especially when I'm in Haiti, I am not an outsider. I am a tanbourinè, a drummer. As for the skeptics, I have a lot of fun with them. They challenge me to play my best. The drum is a powerful form of communication. It's a spiritual instrument that transports me from the material to the metaphysical realm. It always amazes me how far the sound can reach; how it seems to draw people to it. Once you open yourself up, the music has the ability to take you to another level. To me, the drum is the language of the spirit.
Katia:  You were in Haiti for the 5th Annual Jazz Festival in February, 2011—one year after the devastating quake. How was that experience for you?
Markus: The plight of the people is even more visible now.  The homeless camp out anywhere they can find shelter: across the street from the airport, in parks. We came out of a late-night jam session at a club in Petionville, and saw the tent camp right across the street. It was surreal. And very sad. It was still good to participate in the festival. There were artists from Argentina, Mexico, Spain, and many other countries. We played a free concert across the street from the tent camps in Champs de Mars, and did a free workshop for music students. It was good to be able to offer something that brought a bit of joy.
Katia: When were you first introduced to the tanbou? 
Markus: I met a drum-maker at this little music shop in Amherst, Massachusetts. His name was Joe Platz. He had studied with Richie "Pablo" Landrum—one of the first guys who taught Conga drumming in New York City back in the 1950's. Pablo was a carrier of Afro-Caribbean traditions. He played in a lot of jazz recordings in the old days. My father was a jazz fanatic. In the 60's when American jazz musicians came to Copenhagen because they had a hard time making a living here, my father made himself a part of that scene. I grew up around that kind of music. When Joe introduced me to hand-drumming I began to understand my father's obsession with music. Not long afterwards I was introduced to the Haitian drum. The course of my life changed.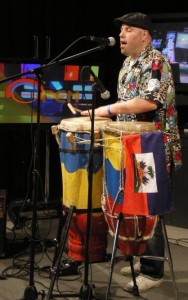 Katia: Do you believe in destiny?
Markus: I do. Things don't happen by chance. The drum is now an inextricable part of who I am. It's so deep in me that I don't even stop to think of how it impacts the decisions I make. Even when I first started, I could not separate myself from it.
Katia: Did you ever want to do anything else? Did you have other career goals?
Markus:  No. After college all I wanted to do was play the drums. My family and I lived in the San Francisco Bay area—not far from Spraul Plaza, at UC Berkeley, a haven for thousands of drummers to practice together. I was out there drumming day and night. My mom worried I was throwing my life away.
Katia: Did you blame her?
Markus: I didn't understand then. Just as jazz was widely underappreciated not too long ago, so is drumming. You can go to the New School or Julliard now and get a Master's degree in jazz now.  There was a time when students had to build relationships with elder musicians and learn through direct interaction with them . . .apprenticeship through an oral tradition. The master musicians became mentors. Being around some of the drummers I met from hanging around Spraul Plaza initially gave me the knowledge I hungered for.
Katia: Was it the same hunger for knowledge about the drums that took you to Haiti.
Markus: I wanted to go for years before I finally got the nerve to do it. My home was a world away from Haiti. And then I met Jean-Raymond Giglio, who founded the Haitian jazz group Foula in the early 80s. He was one of the pioneers of the Vodou Jazz and Rasin movement out of which came bands like Boukman Experyans, Boukan Ginen, and others.
Katia: How did you finally get the nerve to make your first trip to Haiti?
Markus: Jean-Raymond and his wife were in the San Francisco Bay area for a visit.  Someone introduced us. It turned out the place where they were staying was but a few blocks from mine. I began to study the drum with him daily. Jean-Raymond invited me to come to Haiti when he was about to return. It was a time of great political upheaval. There was the first coup d'état against Aristide and an oil embargo in effect. The State Department advised all non-essential government people to get out of Haiti. I bought a ticket, quit my job, and flew there.
Katia: What was your initial reaction when you reached Haiti?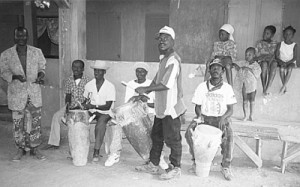 Markus: It was amazing. I had nothing to compare it to. Looking back, I can now see that it was a time of great oppression. There were few foreigners there. I didn't see another white person for three weeks. It was two weeks before I found someone who spoke English. It was like an immersion language class. It was beautiful. I was hanging out with musicians, dancers, and artists all day every day. Despite the instability and craziness in the streets, we also managed to travel to the countryside. I visited Gonaives. I went to Miragoane, in the south. I heard and got to play with the most amazing drummers. I learned so much and came home a different person.
Katia: What was your impression of Gonaives and the countryside?
Markus: Gonaives is a special place where lineages and traditions remain intact from Africa. The people set special times aside to celebrate their heritage. The culture there is rich and there's deep inspiration to be found, if you're interested in those types of things. Basically, Jean-Raymond had taken me to the music's source. It is unfortunate there is so much stigma attached to traditional Haitian music in the Diaspora and in Haiti. People get hung up on stereotypes and misinformation.  It's sort of ironic, given Haiti's history.
Katia: What impact have those stereotypes had on your career?
Markus: If you need people for a gig and you tell them the kind of music you play, they have a visceral reaction one way or the other: positive or negative. Haitian traditional music is a polarizing idea. That's one of the biggest challenges for musicians in what they call Vodou Jazz. It would be far less complicated if one could separate the cultural and artistic expression from the idea of good and evil and the personal domain of spirituality. I was not raised to reject ideas without even understanding them.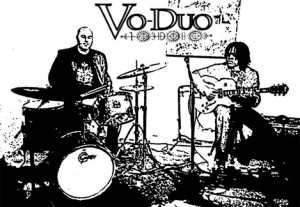 Katia: Your new project is called "Vo-Duo." Do you identify with Vodou?
Markus: I was not born into nor was I raised in that tradition.  I don't call myself a Vodouizan per se. I do, however, appreciate Vodou on the scale of one of the great spiritual expressions on par with the other great spiritual systems in the world. It's worthy of the highest scrutiny, research, and documentation.
Katia: When I look at you and the tanbou, there seems to be nothing separating you two. It's as if you are one with it.
Markus: I am proud to be a carrier of that tradition, and a contributor through whatever small piece I can add and share.
Katia: What was the inspiration behind the name Vo-Duo?
Markus: A play on words: a reference to the Haitian Kreyòl idea of Vodou and we are a duo.   We have gotten so many compliments on the name so far, now we have to live up to the name! And it's coming along. Every time we play, we get better.
Katia: When someone comes to hear the group for the first time, what do you want that person to walk away with at the end of the show?
Markus: I hope they walk away feeling better than they did before we started playing. Uplifting folks' spirits should be a primary goal of music. Music can be a powerful healing force.  After that, I would hope to surprise folks in terms of what is possible with just a duo, especially the unlikely combination of a drumset and electric guitar! I would also like folks to gain some inspiration (the way we have) from the beauty of the Haitian rhythms and melodies. By playing them on a guitar and a drumset, we make them less "foreign" sounding for those who have not already been exposed to Haitian/Vodou drumming and singing. The sounds are familiar ones: the texture of an amplified guitar, a cymbal, snare or tom. It's more accessible, yet what we are playing is completely new for them. For us as well, as we are creating a new musical language based on the ancient traditions reinterpreted with modern instruments, jazz harmonies, and arrangements, etc.
Katia: Where can we buy Vo-Duo's music?
Markus: You can't as of yet!  We are playing out in front of audiences as much as we can—to let the music grow in that way. We are preparing to record a project or two, hopefully later this year.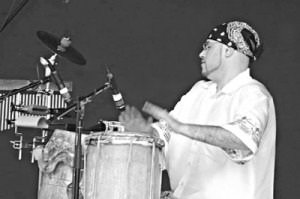 Katia: Where do you see Markus Schwartz ten years from now?
Markus: I tend to go very deeply into each phase of my musical expression. I become consumed by whatever I am working on, and then eventually and inevitably move into the next one. I don't like to stand still. So, I guess the only answer I could give would be Someplace different than where I am today. I hope to be learning, growing, refining and expanding my vocabulary as a percussionist.
Katia:  Where do you see Haiti ten years from now?
Markus: I hope Haiti can rebuild and renew. I hope Haiti can create self-sustainable models to take care of her own population.  I hope that education and literacy can be accessible to all.  Drinkable water, affordable (locally grown!) food, jobs, health care, infrastructure, security. It's not too much to ask for. Shall we say a little prayer for Haiti? Ayiti Cheri, nap priye pou ou. Nap goumen pou ti moun yo. Nap jete dlo pou gran moun yo. Ann plante, ann pwopte lakay nou, ann kenbe kilti nou!
Translation: Dearest Haiti, we pray for you. We continue to fight for the children. We drop a libation for the elders. Let us cultivate our fields; let us clear out the rubble, and always uphold our culture.