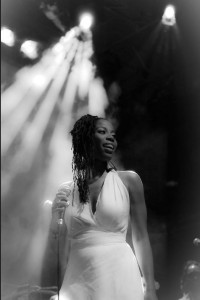 IN HER OWN WORDS
I am a spiritual individual with a passion for life.
My parents are from the western part of Haiti. My mother is from Grand Goâve and my father is from Léogâne. All of my siblings were born in Haiti.  Only my twin brother and I were born in New York City.  Although we grew up in America, Haiti greeted us every day. My household was and is Haiti.
My first CD "A Musical Offering" was released in 2009. The album  comprises  unique arrangements of the standards, blues and traditional Haitian music.  In this recording, I pay tribute to the many great jazz and protest singers of the past, such as Sarah Vaughan, Nina Simone, Julie London, and Toto Bissainthe. Currently, I am preparing for my second recording that will introduce interesting arrangements and new compositions.
What goes through your mind before a performance?
I am mindful that I was given a gift and that I have a mission.  I pray and ask God to have His way.  Music is not about me… It's bigger than I am.
Do you ever get nervous before you go onstage?
Always.
Where were you when you heard about the earthquake that struck Haiti two years ago?
I was performing at the Tutuma Social Club in New York City. Before I started my second set, I heard the devastating news. Some of my relatives perished in the quake . . .
What is your hope for Haiti's future?
I hope for economic empowerment, development of technology, mass transportation, modern educational system, state of the art medical facilities, sanitation departments and expansion of road building.
I hope for a system of checks and balances among civilians, the judicial system, and private and government sectors.
I hope to see high tech innovation and enterprise that spurs job growth and long-term prosperity.
I hope to see the creation of earthquake proof buildings and "quality" homes for  all.
I hope for the preservation of Haiti's culture.
I hope to see mutual respect and equality for all in Haiti.
I hope to see Haiti, the Black Pearl, rise to high prominence.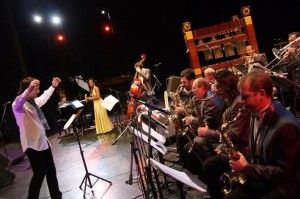 What lessons have Haiti and Haitian people taught you?
Haiti and its people have taught me the importance of preserving history, language and culture. My people are spiritual, intelligent, creative and talented. Our traditions, paintings, literature, music and various other art forms are a testament to that.
We are heirs to a proud legacy of liberation from the shackles of slavery despite Haiti's painful history.  Haitians have also taught me that the scars of slavery are deeply embedded in the minds of some causing a division and self-hatred.  I believe that my generation has what it takes to close the divide and change this mindset. Haitian people have taught me about self-pride, struggle, the value of hard work ethics and perseverance.
I love our oral traditions and listening to our riddles like "Tim Tim…Bwa Seche", or "Kri krak!" folk tales. I love hearing Haitian proverbs like "sak vid pa kanpe" (An empty sack can't stand) or "santi bon koute che"
(smelling good is expensive).  Haitian people have a great sense of humor and expression.
I am Haitian-American and proud of my African roots.  I am a testament of the ancestors.  Mwen la! (I am here!)  … Ou la! (You are here!)… Nou la! (We are here!)… Kenbe la! (Never give up!)
Let's talk FOOD. What does Pauline Jean like to eat?
I love drinking soup joumou every year on January 1st. I love my diri ak sous pwa (rice & beans), diri ak djon djon (black rice), legim, kabrit, and so much more. Not trying to be biased, but Haitian food is among the best in the world.
What advice do you have for up and coming singers?
Perfect your God-given talent, surround yourself with positive influences, study your craft, recognize your strength and never give up.  What you are looking for is looking for you.