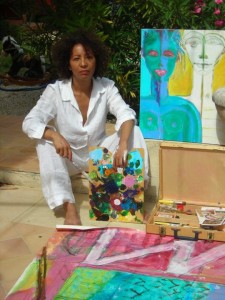 Michèle Voltaire Marcelin is a writer, poet, performer, and visual artist who has lived in Haiti, Chile and the United States.
Her first novel, La Désenchantée, was published in 2006. Since then, she has published its Spanish translation, La Desencantada, as well as two other books of poetry and prose: Lost and Found, and Amours et Bagatelles– which was recently translated to Spanish and which she presented this February at the International Book Fair of Havana, Cuba.
Michele's work is also included in two poetry anthologies published in France :Terre de Femmes (Editions Bruno Doucey) and Cahier Haiti by Revue d'Art, Littérature et Musique.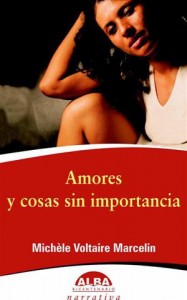 Maya Angelou declared her poems "stunning" in an interview on OprahRadio:
Haitian Poet Michele Voltaire Marcelin – Audio – Oprah.com
http://www.oprah.com/oprahradio/Haitian-Poet-Michele-Voltaire-Marcelin-Audio
Author Edwidge Danticat wrote: "The seventy-four poems in Michèle Voltaire Marcelin's "Lost and Found" are as sensual as they are lyrical, as tender as they are incandescent. Make sure you are sitting down, or better yet lying down, with your beloved and a glass of wine, as you read them. Your heart — and your love life — will never be the same."
Michèle recently read her poetry at the International Miami Book Fair along side Paul Farmer, Salman Rushdie, and Edwidge Danticat. She's been featured as one of the poets of the NewsHour on PBS and interviewed by CNN Español.
She has performed her poetry solo and with jazz bands at the Brooklyn Museum , the MoCADA, La MaMa theatre, Cornelia Street Cafe, the United Nations, the Segal Theatre, and most recently at UCLA with Jonathan Demme, Maggie Steber, Mark Denner in Haiti Stories.
She has shared the stage with artistic luminaries Emeline Michel, Manno Charlemagne, Buyu Ambroise, Beethova Obas, Jessica St.Vil of KanuDance. Her artwork has been exhibited at the MoCADA, the African-American Museum of L.I., The Cork Gallery at Lincoln Center and the Mupanah in Haiti.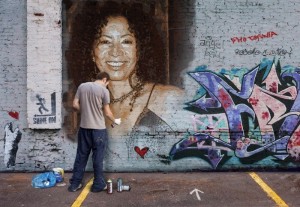 This Port-au-Prince born artist writes in 3 languages and currently lives and teaches in New York.