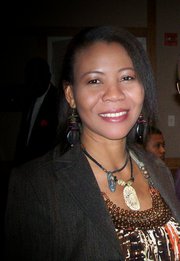 Jeanie Bogart's award-winning poems  have been published in many anthologies, including: "Plaisir des Mots" by Dossiers d'Aquitaine, France 2007 ;  "La Poésie Haïtienne Contemporaine" by La Maison de la Poésie, Belgium 2007;  la Revue Littéraire Passerelle, Montréal 2008.
In 2008, Un Jour… tes pantoufles, was published by Éditions Paroles, Montreal.  She released a CD of Haitian Creole poetry titled "Dènye Rèl" in 2009. In Feb 2011, she published Eloge de l'Interlocuteur with poet Saint-John Kauss (Editions Joseph Ouaknine -France).
She was a signing author at Livres en Folie Haiti in 2009.
She has performed at the Bowery Poetry Club, the Brecht Forum, BLVD, the Brooklyn Central Library, The Ferguson Library in Connecticut, Poetry Slam: Celebrating Haitian Women Lehman College, among other venues.
A yet untitled novel and the new poetry book, Paradoxe, are forthcoming.
—————————————————————————————–
Jeanie is from Les Cayes, Haiti.  When she's not busy negotiating life with her four girls, she pens some of the most luxurious poems in French and Haitian Kreyòl.
"I did not choose to become a poet," Jeanie explains. "Poetry chose me.  The desire to write consumed me. There was nothing I could do.  I was 14 years old. I would stand by the sea and write for hours.  I did not want to do anything else.  Don't ask me why. When people say they like my poems, it makes me feel that I have a purpose.  I don't do it just for myself.  We all share the same joy and sadness.  I write also about my country.  Of course, I write about my country; my poetry is about love . . ."