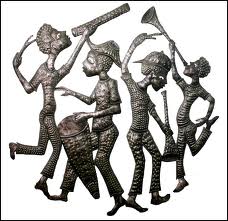 Feast or famine. Drought or deluge. Peace or pandemonium. We are still standing.
Within the sliver of space where the swinging pendulum pauses, the persistent drum-song of Manman Ayiti reverberates. In the centuries since our ancestors were brought to the island, the rhythms of our roots have not weakened. Through sweet and sorrowful times, this endowment sustains us.  Musicians worldwide benefit from  our lavish legacy. Some give credit where it is due; others play dumb. Their instruments may be shiny and new, but the rhythms that come out are distinctly Haitian. African. Morgan Zwerlein revels in this fact.
Music was our language, when our mout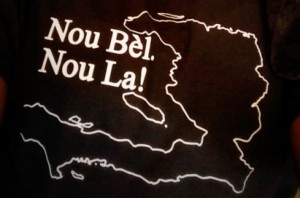 hs could not speak what our eyes were forced to see.  Like secret codes, drum beats conveyed our messages. When uttering a word would have cost us our tongues, we communicated openly through music. Slave owners feared the African people's drum so much that they outlawed the instrument, lest it triggered a revolt.
The esoteric rhythms keep us connected even now.  Drop a Rabòday or a Kongo beat, and stiffs in business suits start to undulate. The reaction is visceral. The drums call. Bodies and souls respond.
Morgan Zwerlein has learned the language of the drums, and speaks it very well. The instant I connected his face to his powerful sound, I was stunned. How on Earth did a blan learn to play like that? Cultural appropriation is one thing, but it's different with this guy. I had to ask. What exactly are your intentions with these here rhythms? 
The first answer came in 2014—on Haitian soil. I watched and listened as Morgan beat the drum on and off stage. He jumped in the middle of a Rara band in Puits Blain, and played as fiercely as my compatriots. I've seen Morgan perform in Brooklyn several times since. He plays like a happy kid in his favorite toy store, smiling like he'd just swallowed something sweet.  I had more questions. He answered them. Click here for the INNERview.