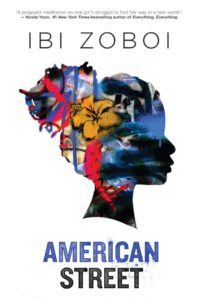 In the neighborhood where I live, a cardboard stork makes its way to the front lawn of new moms and dads. The stork holds from its bill a sign that advertises the name, sex, birthday, and birth weight of the newborn. We drive past the stork on our way to work, acknowledging the child and wishing that the world proves to be a kind, welcoming, and safe place for him/her to flourish.
You and I don't live in the same neighborhood, but technology has made us neighbors. Let me tell you about a newborn that greeted us on Valentine's Day. The new mom's name is Ibi Zoboi. If you have not heard of her, you will. Trust me. The baby's name is American Street.
Ibi is a staunch supporter of the marginalized. Tears leak out of her eyes, when she contemplates how her birthplace, Haiti, is consistently demonized. She redeems her homeland through the fearlessness of her protagonist, Fabiola Toussaint, a black girl whose mother is detained by the immigration police. Fabiola, whose namesake is Toussaint Louverture—the fearless leader of Haiti's successful slave revolution—must go home alone to make sense out of her hostile world. She meets challenges no child should; negotiates Detroit's punishing streets, to emerge as the heroine we will come to love.
This young adult novel will make you believe, once again, in a girl's power to endure and thrive. Kirkus Review puts it this way: "[American Street] will take root in readers' hearts." In these days of "extreme vetting," this book about the immigrant experience could not be timelier. Run to your favorite bookstore, and get a copy for yourself and one for your best friend(s). Spread the word on social media. Let's make Fabiola Toussaint the star she deserves to be.
By the way, I've been accused of being able to "see into the future." If that were true, I would have done many things differently. However, something tells me American Street is destined for greatness.  I see a movie in its future. I see Fabiola Toussaint's face on lunch boxes and mouse pads. I see a television series. I see children all over the world being inspired to be bold and heroic. I see a promising future.
Great job, Ibi! I cannot wait for the next book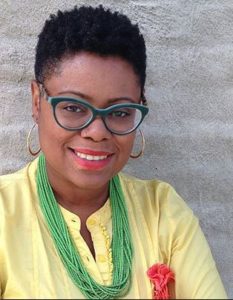 Ibi Zoboi was born in Port-au-Prince, Haiti and immigrated to the U.S. when she was four years old. She holds an MFA in Writing for Children & Young Adults from Vermont College of Fine Arts, where she was a recipient of the Norma Fox Mazer Award. Her award-winning and Pushcart-nominated writing has been published in Haiti Noir, the Caribbean Writer, The New York Times Book Review, the Horn Book Magazine, and The Rumpus, among others. Her debut YA novel AMERICAN STREET (Balzer+Bray/HarperCollins) is due out in Winter 2017. Her debut Middle Grade novel, MY LIFE AS AN ICE CREAM SANDWICH (Dutton/Penguin), is forthcoming.