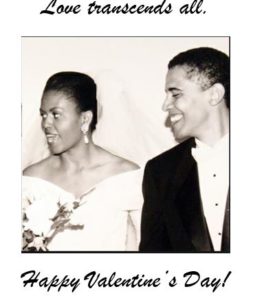 The events of the past few months have shaken us to the core. The world holds its breath, hoping against hope that the nightmare will end. The sun shines a bit brighter this Tuesday, though. People are wearing their hearts on their sleeves, literally.
Friends on social media publish encouraging messages about the different types of love they have for one another: sacrificial love, fast-burning love, sustainable love. The posts that carry the most meaning remind us that every day brings with it a chance to celebrate family and friends.  Just as every month is African-American History month, every day is an opportunity to give and receive the one thing that will transcend all the hatred bubbling, like lava, around us.
Love always triumphs. After all these years, can you believe there's still no app for it?
Viv lanmou!