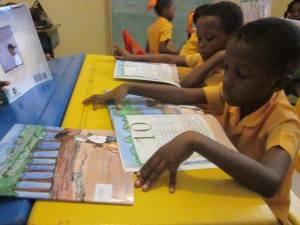 Expect great things from a publishing company built with the children of the world mind!
One Moore Book is dedicated to providing literature that educates and entertains children who live in marginalized countries. These books are filled with characters who are much like the children who read them. The plots follow the lives of ordinary school-aged children thriving under extraordinarily harsh conditions. Children love these books, because they see themselves in the characters; they are represented.
OMB's debut series, written for and dedicated to the children of Liberia, continues to receive praise. More importantly, however, the Liberia Series is currently in the hands of children who remain out of school due to the Ebola outbreak. While we work and pray for a resolution for afflicted Liberia and neighboring regions, there is a dot of comfort in knowing that One Moore Book had the vision to supply the world's most desperate children with a means of escaping bleak realities–if only for brief moments. The illustrations are attractive and vivid, contributing to raising comprehension levels by beginning readers, fluent ones, and non-readers alike.
One Moore Book's Haiti Series features native born writers, as well as Haitian-Americans: Ibi Zoboi, Michele Jessica Fievre, Maureen Boyer,   Edwidge Danticat, Sybill St. Aude, and Katia D. Ulysse each contributed one book: These six amazing books have brought priceless smiles to countless adults and children in Haiti and in the Diaspora. The books are for everyone who wants to learn a little more about Haitian culture. I have heard from people as far as Scotland who value these books for the lessons they teach in fun ways.
This Holiday season, One Moore Book has partnered with an education foundation–Free the Slaves –to give copies of "Fabiola Can Count" to all children who not only deserve to see themselves validated in literature, but need to know they are not alone in their plight. (Fabiola Can Count is about a little stay-with girl who learns to count, using the few resources available to an indentured servant).
Stay-with  children, as benign as the term sounds, is a long-established condition that too often translates to enslavement of powerless children–some as young as five years old.  Although there are those who prefer to deny the existence of Stay-with children, finding evidence is easy and well-documented. To be sure, this phenomenon is present in most cultures throughout the known world. Children are made to care for entire households of adults and other children much older than the servants. This phenomenon is slowly declining in Haiti. Those would might have waved dismissive hands are now willing to hold conversations on the subject. The fact that modern day slavery persists anywhere in the world is tragic.
Fabiola Can Count, written in Haitian Creole and in English, provides children with beautiful illustrations and an engaging story that promote first language literacy and English language learning.  This holiday season, One Moore Book is ready to give Fabiola to every Stay-with child in Haiti. We need your help.
Here is the message from One Moore Book. I hope you will support this effort. It is heartwarming and necessary. What a super opportunity to bring joy into an unsuspecting child's heart! This offer will end 1/30.
Happy Holidays!
YOU BUY, WE GIVE. HOLIDAY 1-FOR-1
Christmas is an incredible time of year for many children around the world, but not all. In Haiti, a child who is a modern-day slave is called a restavek–a term which means "stay with." This season, every time you buy Katia D. Ulysse's incredible book, "Fabiola Konn Konte", a counting book about a young restavek girl from the OMB Haiti Series, we will match this and donate a copy to a restavek child through a partnership with the Free the Slaves organization and Fondasyon Limyé Lavi in Haiti. 
This giving program will end on January 31st.
Pictured: Children read One Moore Book's Fabiola Can Count by Katia D. Ulysse at the Innovation Hub in Port-au-Prince,