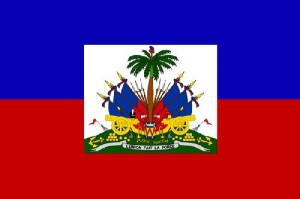 Several years ago when I moved to this hood, I thought I'd meet at least one Haitian. That didn't happen for two years. Pawòl serye.
I'll always remember the moment I spotted a bumper sticker depicting the Haitian flag, and shouting "Follow that car!" to my husband. He followed at a safe distance, ignoring my "Hurry! Hurry! Don't let them get away!"
"What do you people want?" the driver had inquired—not very nicely.
"Well. . . Well," I stammered. "I saw your Haitian Flag bumper sticker, and thought . . .You see, I am Haitian, and. . ."
The driver flew out of his car. Arms were wide open to embrace me. I guess he'd been hoping to find a Haitian in town too.  He turned out to be an American who'd spend time in Haiti. Unfortunately, the dude should have spent more time in the slammer than in my country, but that's another story.
Fast forward several years. The number of Haitians I've met in the hood has increased to a grand total of…………….2. And I'm counting myself.  Thank goodness for the Internet.  And Interstate 95.  And airplanes. And day-dreams.  And BOOKS!
I've quit following cars with Haitian flag bumper stickers. BUT–and don't you dare tell anyone this–each time I see the Haitian flag dangling from somebody's rearview mirror, I step on the gas for a closer look. It's that serious.
Happy Flag Day to my compatriots and lovers of Ayiti Cheri!