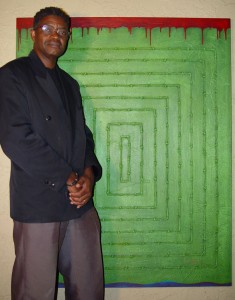 I was born in Fort-Liberté, but grew up in Cap-Haitien. I am the second (and the only boy) of five siblings.  Because my father's job as an electrician for the Dauphin Company kept him away from home most of the time, I was raised mainly by my mother.  She was a devoted and hard-working woman who would have given her life for her children.  Still, she maintained a no-nonsense approach when it came to discipline. My mother expected us to behave well and earn top grades. My father, on the other hand, tried his best to spoil us. When he was home, he played with us endlessly. He loved to make us laugh. He lavished money and all kind of presents on us.
I attended Frères de L'Instruction Chretiènne and College Notre Dame du Pèrpetuèl Secours. Every Friday afternoon, we had drawing class. They were the best! Even though "drawing class" meant nothing more than coloring booklets which the teacher distributed, I loved it.
Students were told to complete only one assignment per week. Each booklet was supposed to last all year. When I colored an entire book in just one afternoon, the teacher was beyond furious. He tried to wipe out my enthusiasm for art with his ruler, but failed.

I spent summer vacations with my father either in Terrier Rouge, Derac, or wherever his job was at the time.  I remember those days well. The neighborhood kids and I enjoyed would make our own toys. We used scrap metal, tin cans, and any other materials we could find. We made model taptap trucks that looked like real ones. We drew figures and scenes in the dirt with sticks. Each artist did his best to surpass the other; consequently, our works became more and more elaborate. We had only one rule" Each artist was to respect the other's space/canvas. Drawings that were too close together in the dirt led to bitter bickering—even fist fights.
When evening came and it was too dark to draw in the dirt with sticks, we played traditional games like lago, kakach manba, sere li ben. We listened to the Bouki and Malice fables. Tire Kont was also a great way to pass the evening hours. We loved to try and figure out those riddles . . .
On being an artist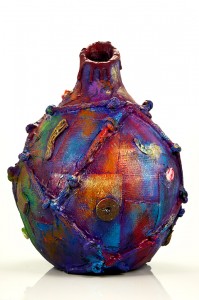 It happened when I was about five years old. My father was helping me with homework. He was pensive for a while, and then began to draw something on my notebook. When he was done, I was thunderstruck. He had created a magical scene on my notebook while I was struggling with the alphabet!
The landscape which my father created was more beautiful and elaborate than anything I could have imagined. It was a work of absolute genius–created from nothing and seemingly without effort.
I spent years trying to reproduce my father's drawing.  I must have copied it hundreds of times.  I would add people, animals, and various objects to the original. Later, as I got better, I experimented with different media: color pencils, watercolor, and charcoal.
I decided I wanted to be a good artist, so I read profusely all I could about the old masters and the most famous contemporary artists of the world. A few years later when I served as director of Regard et Dialogue, a periodical published by my high school, I took the opportunity to fill the pages with articles and illustrations by yours truly. After graduation I moved toPort-au-Prince, where I studied at the Centre de Ceramique and the Centre d'Art.
During my tour of duty in Germany while serving in the American Army, I visited museums and prestigious art galleries. I also studied Art Education at Miami Dade College. Art is in my soul.  I now hold a Master's degree in psychology and currently work in this field, but art remains a passion.
I strive—as time permits between work, family, writing, and other activities—to create pieces that show my love for my native country.  Though I spent most of my adult life in foreign lands; despite the chaos and precarious conditions, Haiti remains to my eyes the most beautiful and culturally rich.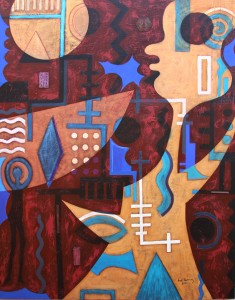 On post-quake Reconstruction efforts 
Haitian artists contribute to our country's reconstruction daily by producing works of art that depict the resilience of a people and our hope for the future.  They should, however, find a way not to be exploited by unscrupulous art dealers and so-called art promoters whose lack of vision, insight, knowledge, and marketing talent prevent our artists from accessing and competing in the arena of the mainstream art world.
Haitian artists need also to create works that reflect not only our traditions, beliefs, history and culture but our aspiration for a modernHaitithat's ready to play an influential role in the global scene.
On Gratitude
I am grateful to have a caring family and the skills to transcend reality by creating a new world through my imagination and artistic means. As they say: "what does not kill you makes you stronger." I am grateful for all that I've been through as a person and artist. Yes, I am.