On Being "Discovered"
An Editor from Glamour Magazine came up to me one day, and asked me to come to her office. It was that simple. I was sent to Kenneth Beauty Salon which was a very prominent Hair Salon in a brownstone in midtown. Then, I was sent to George Barkentin, a photographer, for some photographs.
Before that I had been approached by a woman photographer who wanted to take pictures of me; I had declined because I didn't know her and was not sure.
When I first immigrated, I met two people who became my first friends inNew York City: one was an artist fromItaly, Amedeo Curateli. His friend was an American model at that time, Catherine Ursillo. She later became a photographer. We became fast friends; we had a certain mentorship:  I tagged along to parties, Catherine took pictures.
I always had pride and conviction about where I come from. I don't recall having a problem with being from Haiti. I love being from Haiti. I never denied it nor felt it was to be hidden.Haitichose me.
If I was up for a speaking role, my accent sometimes got in the way. The role would go to someone with an American accent. I never took it personally. it was a question of casting whatever talent was right for a part.
To a Little Girl Who Does Not Feel Pretty  
I would say think of yourself as a unique person. Imagine there is no one else like you in the world. God created you to be you; no one else. . .
I would say: stand in front of a mirror and smile at yourself. That is an amazingly simple tool to help you to love yourself.  And if you don't have a mirror, smile anyway. A smile will get you very far. In my experience, it will draw people towards you.
On Haiti
When I heard about the massive earthquake, I was home in theUS.  I was stunned by the news. The waiting was excruciating. I prayed. It was impossible to imagine that my birth country would disappear.
The earthquake happened on a Tuesday. I was supposed to join my cousins who had gone to Haiti two days prior for a relative's funeral, which was to take place Wednesday. For some reason, I had changed my mind and stayed home in theUS.
The process of accepting that this disaster was true seemed to take an eternity. There were questions swirling in my head which no one could answer: How many had perished? Who were the victims? Would we ever know their names? Was my family alive?  I could not stop crying about the disaster, the loss, and the uncertainty
On Haiti's Reconstruction
I have only seen the damage on the news. The damage is huge. I can't imagine restoration soon, but I do imagine blessings will come toHaiti. I hope we will get there.
It has been more than a year since the earthquake and restoration is slow. It makes me mad that there are so many people living under tents . . .
I do have hope thatHaitiwill be rebuilt through education of a new generation. I only hope that the physical reconstruction will respect the spirit and the aesthetic of our people in terms of structure and architecture. Respect in term of form and function. A People cannot change in 10 or 20 years.
The Role of Artists
I see the role of artists is to project a positive image while the physical reconstruction takes place. Haitiis a creative soul.Haitiis not just a place. It is the soul of a people; and when any Haitian carries himself or herself in a dignified manner, it reflects the spirit of the people.
In 20 years, I hope thatHaitiwill have become a secure place where freedom, housing  and work are a way of life; where education is a norm; a place where  respect for one another—regardless of class differences—will enrich us.
Jany Tomba Today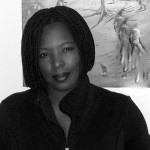 Home
VoicesfromHaiti
Honoring the Past. Celebrating the New Journey
-Katia D. Ulysse